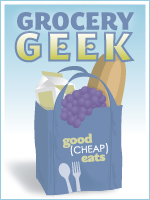 So this week, without the produce box, was a little easier to shop for. I even had grocery money left over. But, we also ate a lot fewer vegetables than we do when we have the box.
I could save money by not getting the box anymore, but I think that would represent a step back for me in our journey toward better nutrition. Having a weekly delivery of fruits and vegetables exposes us to seasonal produce as well as strange produce. And, of course, I love it that it's all super fresh and straight from the farmer. Sometimes, it takes more than dollars to make sense.
If we really didn't have the funds, I'd probably have to let the box go. But, as we do have the budget room, I'm keeping it for a number of reasons. Cheapest is not always best.
That said, I think that I can put the box on vacation a little more often to help us "catch up" and use everything before it spoils. Confession: I still have a butternut squash from months prior and my fridge is full of eggplant.
Today marks the last day of my "official pantry challenge". I'll still be taking my calculator shopping with me. It makes no sense to scrimp for the last two weeks and then go stock up on things next week. But, I won't be blogging our meals everyday.
Here's how the week's shopping went down:
Sprouts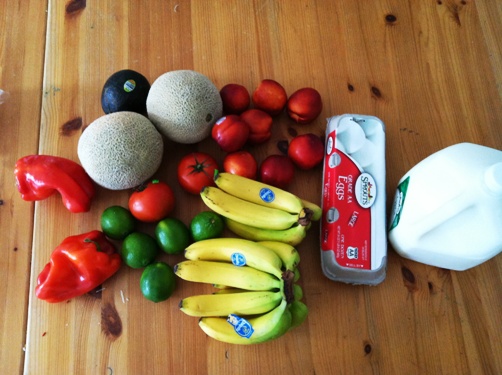 Sprouts had some pretty good sales on produce. I tried to hold myself back at the same time as give myself options. Milk and eggs were not a great price, but it was an early morning run, and I didn't feel like going to more than one place.
I wish I had looked at my receipt when I was at the store. I think I was charged for the wrong tomatoes. Ugh.
milk $3.29
eggs $1.99
melons $0.88 ea
xlrg avocado $1.50
limes 5/$1
nectarines $0.88/lb
organic tomatoes  $2.99/lb
bell peppers 3/$1
bananas $0.67/lb
Total spent: $17.20
Trader Joe's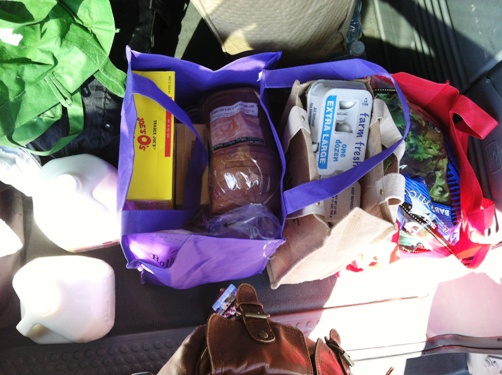 I took three kids to Trader Joe's early in the week. That was interesting. They weren't too privy to the Pantry Challenge, so their requests for this and that were sadly disappointed. That's life, I'm afraid.
Here's what we did get:
rolled oats $3.99
cereal $1.99
crackers $2.29
rice cakes $2.49
spaghetti $0.99
butter $2.99/lb
quart yogurt $2.49
eggs $1.79/dozen
milk $2.99/gallon
bread $1.99/loaf
diced tomatoes $1.99
almonds $4.99
chocolate chips $1.99
baby spinach $1.99
baby lettuce $1.99
flour $2.99
cheddar $2.55/wedge
coconut milk $0.99
sunbutter $4.99
Total spent $60.22
It turns out I didn't make granola from the rolled oats or use the chocolate chips, coconut milk, or sunbutter, but I had planned to use those things. Another proof of how the pantry gets restocked even when I don't intend it to.
Trader Joe's again.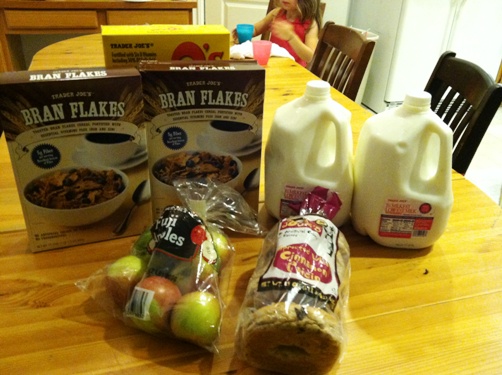 On date night, hubs and I bopped into TJ's for more milk. We also got cereal, bagels, and apples. I need easier breakfasts for the kids especially since I'm going to the gym in the mornings.
cereal $1.99
apples $2.99/2 pounds
milk $2.99/gallon
bagels $2.49
Total spent: $17.43
Ralphs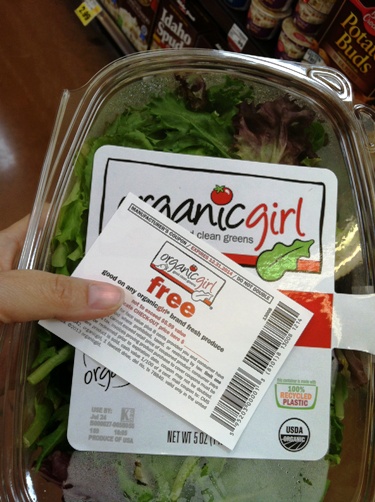 By the end of the week, I was all out of salad greens, so I used the free coupon I had from Organic Girl (got it in conference swag a few months ago) to get free salad. Salad Girl loves that!
Total spent: zero
This week's total lands at $94.85, just a smidge under the budgeted $100. There are still eleven days left in the month, so I'll still need to be careful. We've got $225 plus that extra five bucks to go through the end of July. I'm pretty confident we can swing it, if we're careful.
Weekly total $94.85
Monthly total to date $394.87