Plan your meals for the week to save time, money, and the inevitable "what's for dinner?" question.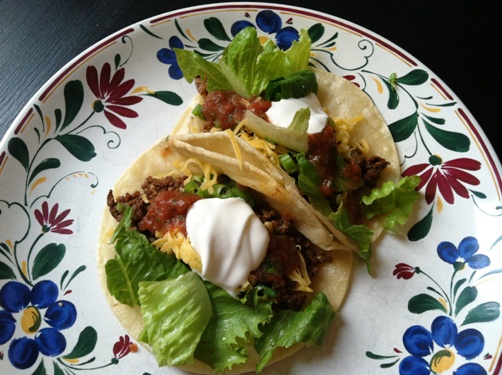 We've got two family birthdays as well as summer vacation and a few outings in the plan this week. So, it's imperative that I have a meal plan. I went without one this week and while it wasn't horrible, it certainly could have been better.
Especially when fielding the "What's there to eat?" question.
By Friday night I was feeling OVERWHELMED by life and spent awhile contemplating a run for fried chicken. I thought about the expense. And then I thought about the junk that they put into it. So, I picked myself up and went to fight the good fight in the kitchen. The result was the tacos you see above.
It all worked out fine, but if I'd had a meal plan, I would have had to fight with frozen ground beef in the skillet, and I would have had a ready answer for the myriad of folks who asked me, "What's for dinner?"
I'll be hosting a twitter chat later this week with Lynn and Laura. We'll be chatting about meal planning and how it benefits us so much. I hope you'll join us! Follow me @fishmama and check the #goodcheapeats stream at 1 pm PST on Thursday.
In the meantime, here's the plan for the week:
As you know I've created a meal rotation for breakfasts and lunches. This worked fairly well last week except for the days when we had run out of a key ingredient. Note to self: shop better.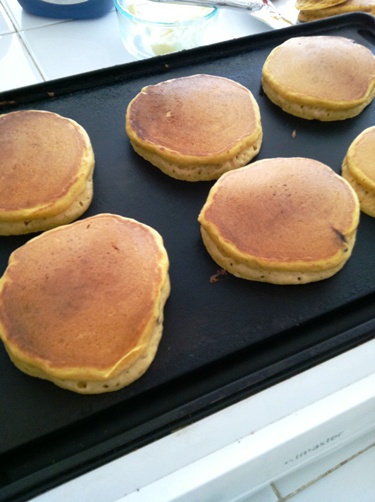 Breakfasts for Summer
All served with seasonal fresh fruit.
Lunches for Summer
All served with seasonal fresh fruit and veg.
Dinners for the Week
Includes two birthday dinners and one outing. All served with fresh fruit and veg.
So, that's our meal plan for the week.
What are YOU having?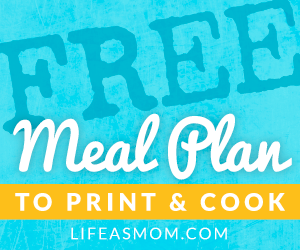 Don't forget! If you struggle with meal planning, there are a dozen free meal plans with grocery lists over on LifeasMOM. Print one and get cooking.