Since I have struck out with farmers' markets in the San Diego area, today's post is brought to you by Diana from Saving by Making: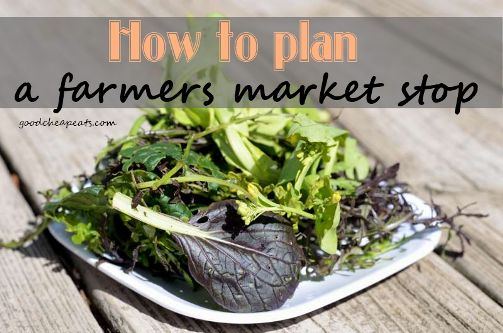 You all know that Jessica is a self-proclaimed Grocery Geek. Her top tips include making lists, checking grocery sales ads, clipping coupons, watching for manager's specials, and making a weekly (or monthly) menu plan.
Although you can't use coupons at a Farmer's market, many other standard grocery shopping tips can be adapted to help you navigate a farmers market successfully. You'll leave with deliciously fresh produce and the happy feeling that you're supporting your local economy.
Here's how to make it work where you are:
1. Make a general list.
Make mental notes of the items you'll be looking for at the market. On my recent stop, I knew I was looking mostly for salad greens. I came away with Asian greens, romaine lettuce, onions, and garlic chives. (And a loaf of fresh sourdough bread. Couldn't help that one!) My general list helped me focus on the veggies and not get too distracted with the fruit, cheeses, ice creams, pizzas, sauces and relishes.
2. Survey the area.
Just like you might survey the produce or meat department for mark-downs, do a survey of the market to get an idea of who's selling what. Don't only look for the lowest price like you would at the grocery store–also look for quality, especially friendly vendors, or unique varieties (like the candy-sweet onions and garlic chives I bought).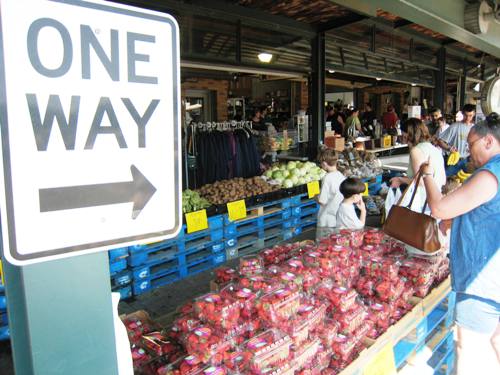 3. Keep your menu plan in mind.
I had already made our menu for the week. I knew I could work the Asian greens and romaine lettuce in, but I didn't buy so many green leafy veggies that they went to waste. Or try the opposite method: plan a menu around the items that you buy and supplement from the regular grocery store to fill in what's missing.
4. Take cash.
Many farmer's markets accept only cash. If you're not used to using cash at the store, you'll have to adjust your mindset to make sure you don't overspend. After my general survey of the market, I went back and started talking to a few of the vendors. At each stop, I looked at their produce and decided what I probably wanted to purchase. After asking the vendor a few questions about that item, I'd say, "Thanks for your help! I'm going to check out a few other things, but I'll be back." When I had decided exactly how I wanted to divvy up my cash, I went back and made each purchase.
I'm sure I'll be refining these strategies as I visit the markets again throughout the summer, but this general plan will give me a place to start. No more standing in the middle of the crowd wondering where to go and what to do first!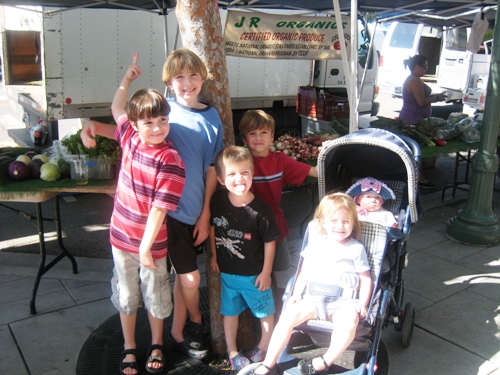 Do you have a great local farmers market?
I've been pleasantly surprised at what our town has to offer! It's taken a little digging and a little driving because most of the markets in our area don't have much internet presence. I'm hoping to change that this summer by blogging about my farmers market adventures, and I'd love it if you'd join me!
Find a great farmer's market in your town, write up some details with a photo of your produce, and let's make it easier for others to find our favorite spots! Come visit Saving By Making for more details.
— Diana is a happy mom of one cute little guy. She blogs at Saving by Making. If you're serious about curbing your spending, get creative and experiment–start saving by making!