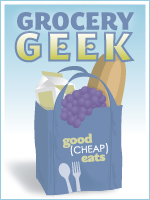 I wish I had some snappy title for this grocery geek report, but I don't. We were gone over the weekend and came home to an almost-empty fridge. I made two runs for supplies, and probably overbought.
I realized during the meal planning twitter chat last week that I do that. Lynn and Laura said that they only buy what's on their meal plan. I buy what we need plus "some". Thinking about that strategy and rethinking it. No conclusions yet, though.
I do know that meal planning and grocery shopping need to be things that I get more comfortable delegating to my older children and husband. I'm somewhat of a control freak. Yes, really. I need to grow there.*
Here's how the shopping went down this week:
Ralphs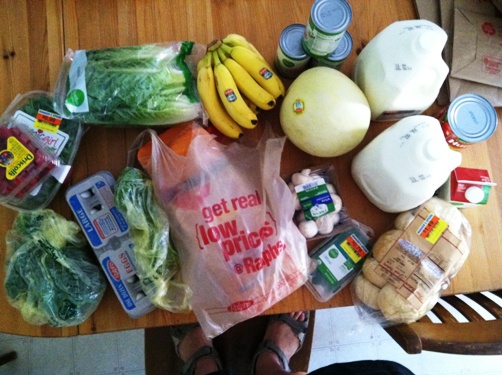 Though this trip was peppered with great deals and clearance finds, it still added up. Milk and chicken will do that to you. For the curious, here's the breakdown:
conventional eggs $1.99
canned tomatoes $2.50 (pricey, but needed)
milk $2.99/gallon
bananas $0.69/pound
mushrooms $1.99
cilantro $0.49
organic romaine $3.99/3 heads
organic arugula $0.99
raspberries $0.99
organic kale $0.99
honeydew melon $0.99/pound
organic mint $0.79
organic garbanzo beans $1.00
organic half and half $2.00
boneless, skinless chicken breast $2.47/pound
clearance rolls $1.49
Total spent $53
Trader Joe's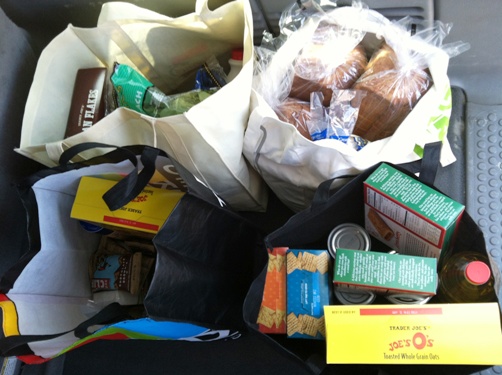 At Trader Joe's I restocked our bread, cereal, crackers, snacks, and coconut milk, nuts, and a few condiments. While I want to move us away from processed foods in general, I feel good about buying the ones that Trader Joe's offers. Plus, it's summer. Even the cook needs a break. Cooking for 8 people is exhausting. (See paragraph 3*.)
Total spent $72
Abundant Harvest Organics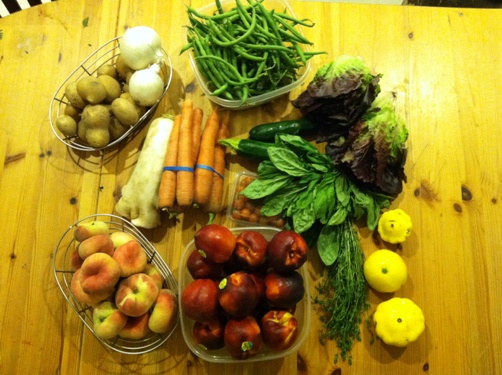 The produce box had some fun stuff in it. The nectarines are fabulous! You can hop over here to see what I plan to do with all this: potatoes, onions, daikon radish, carrots, green beans, zucchini, lettuce, basil, savory, summer squash, nectarines, donut peaches, and tomatoes.
Total spent: $38
Weekly total: $163
MTD total: $837
Well, yes, Dorothy, I think I did overbuy this week. That comes from using my debit card instead of cash. And forgetting to put the produce box on hold. So, there we are, a tad over and there are still eight days left in the month. We've got money from other categories to move around, but I'm feeling the big planning fail. Sigh.
It's been a crazy month though, so I'm not going to beat myself up. Pantry challenge might start a little earlier at our house, though. 😉