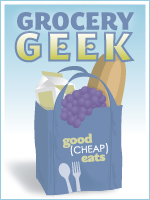 The month has been a crazy one. And we're not even doing summer camps! How can it be the end of June already? Fourth of July is next week? Someone please press pause.
Thank you.
Suffice it to say, the month of June went by in a flash and I don't even know what we did. Well, I do:
three birthdays
two road trips
Father's Day
houseguests
kids eating me out of house and home
OK, the last one isn't entirely true, but we are eating more. The milk drinking has been getting excessive, so we've limited the kids to one cup per meal.
And it seems like there's always a mess in the kitchen….
It could be that I didn't do a big freezer cooking session this month. I think that made a big difference — in the mess and in the amount of work. While I want July to be a month to scale back, I'm definitely going to work in a freezer cooking session for the basics like waffles, pancakes, energy bars, granola, meatballs, taco meat, and pasta sauce. (Watch for the cooking plan next week.)
In the meantime, I tried to sneak through the end of the month without buying much but I wasn't totally successful. I didn't put the produce box on vacation in time, so we got a new box. I'm putting it on hold for two of the next three weeks so that we can save some money and eat down the freezer.
Here's what came in this week's box: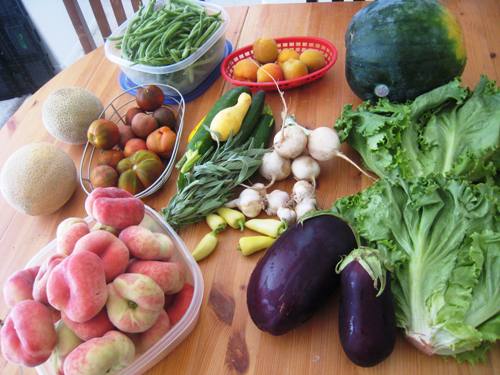 Abundant Harvest Organics
The box held: donut peaches, eggplant, melon, tomatoes, garlic, turnips, lettuce, watermelon, sage, hot peppers, summer squash, green beans, and apricots.
Total spent: $38
Sprouts
I made a couple trips to Sprouts this week. Once for chips and cilantro (not pictured) and once for all this:
organic pears $.99/lb
avocados 4/$1
cage-free eggs $2.50
safe eggs $2.99
cucumbers $0.44
bell peppers $0.33
green onions $0.33
bananas $0.67/pound
Total spent: $20
Ralphs
I spent some fun money on ice cream, since it wasn't grocery money it doesn't count. 😉 But, I also got two gallons of milk. That does count.
Total spent $12
Weekly total = $70
Monthly total= $907
It didn't turn out horrible, especially considering that we had birthdays and all that kind of stuff going on. Let's look at the year as a whole:
January $451
February $1028
March $954
April $799
May $798
June $907
Monthly average = $822.83
For those of you just tuning in, my monthly target is $800/month.
$821.83 is what we're currently averaging. That's what we're spending on regular meals on average each month. We have a separate dining out budget. Toiletries and cleaning supplies don't go toward this total, either. I don't count the delivery charge for the produce box, either. (And sometimes when I develop recipes for cookbooks or other projects, I don't use grocery money to do that. What if it's a bomb?)
We're feeding eight people, aged 4, 6, 9, 11, 12, 16, 41, and 50. We live in San Diego. And we don't buy much in the way of processed foods. My youngest daughter is allergic to peanuts.

I'll be starting a pantry challenge after the 4th of July. This one will be only for two weeks, as opposed to an entire month. I just don't have it in me, but I'm hoping to cut our grocery bill down to at least $600.
If anything, I hope to examine my shopping habits a little more closely. I think I overshop and then end up wasting food. That's my sneaky suspicion. We'll see.
I'll be posting daily updates, starting July 7.