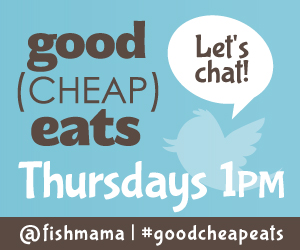 Summertime twitter chats continue. This week the topic is Freezer Cooking. Wondering how to save money and eat well all while making crazy good use of your freezer?
Join me @fishmama, Tricia from Once a Month Mom, and Stephanie from Mama and Baby Love when we talk about freezer cooking and how it equals good cheap eats.
Follow the conversation through the #goodcheapeats hashtag on Thursday at 1pm PST. Hope to see you then!