Plan a staycation and enjoy the benefits of being a local on vacation.
A staycation is a great way to take a break from your every day without the expense and hassle of an out-of-town trip. Last year we had the opportunity to have a hotel staycation, just a 20 minute drive from our house. This joined the best of both worlds: convenience and familiarity with the luxury of having someone else make the bed.
Yesterday I shared some tips and tricks for staycationing in general as well as restaurant recs for San Diego in specific. Over on Life as MOM I posted fun things to do in San Diego.
If you're serious about staying home but truly resting, don't forget to read these posts:
Today I've got a round up of staycation ideas from around the country. Wondering what you can do in Buffalo? Looking for some fun in Kansas City? Spending the summer at home in Houston? Well, we've got you covered.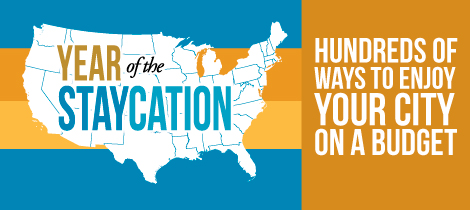 Whether you are staying home or hitting the road this summer, the following posts will give you the inside scoop on inexpensive things to do in each of the following cities
Mid Atlantic
NW (or all), Connecticut :: Parenting Miracles
Boston (or all), Massachusetts :: Maven of Savin
Central, New Jersey :: Our Good LIfe
Adirondak Mountains and Central, New York :: For This Season
Buffalo/Niagara Falls, New York :: Ann's Entitled Life
Syracuse, New York :: I am THAT lady
Erie, Pennsylvania :: Growing Kids Ministry
Greater Harrisburg, Pennsylvania :: Family Balance Sheet
Hershey, Pennsylvania :: Good Deal Mama
Philadelphia, Pennsylvania :: Beyond the Cover
Pittsburgh, Pennsylvania :: The Coupon "High"
Poconos, Pennsylvania :: Bucktown Bargains
Scranton, Pennsylvania :: Bucktown Bargains
Midwest
Des Moines, Iowa :: Make the best of everything
Aurora, Illinois :: A Savings WOW!
Central, Illinois :: The Homeschool Scientist
Chicago, Illinois :: Chicagoland Homeschool Network
Naperville, Illinois :: The Sensible Mom
Schaumburg, Illinois :: Ravings By Rae
Fort Wayne, Indiana :: Simplified Saving
Indianapolis, Indiana (Metro Area) :: In Good Cents
Muncie, Indiana (Central IN) :: the daisyhead
Northern Indiana :: So Dough Savvy
Kansas City Area :: Kansas City Mamas
Metro Detroit, Michigan :: Saving Dollars and Sense
Grand Rapids, Michigan :: Give Me Neither
Oakland County, Michigan :: Bargain Shopper Mom
Minneapolis, Minnesota :: Creative Couponing
Rural Minnesota (either Southern our Lake Country) :: Mommysavers.com
St. Cloud, Minnesota :: Frugal Finders
Kansas City, Missouri/Kansas :: Kosher on a Budget
Springfield, Missouri :: Getting Freedom
Cincinnati, Ohio :: Family Friendly Cincinnati
Columbus, Ohio :: Cleverly Simple
Dayton, Ohio :: Savings Lifestyle: Dayton
Mansfield, Ohio :: The Traveling Praters
NE Ohio :: Raising Lifelong Learners
Northeast Ohio (Canton, Akron, Cleveland) :: Sisters Shopping on a Shoestring
Black Hills, South Dakota :: Little House Living
South Dakota :: Moms Mustard Seeds
Oshkosh, Wisconsin :: Adventures of a Stay at Home Mom
Mountain
Phoenix, Arizona :: Mom Endeavors
Scottsdale, Arizona :: Saving For Someday
Tucson, Arizona :: Desert Chica Ramblings
Colorado Springs, Colorado :: The Greenbacks Gal
Denver, Colorado :: Bargain Blessings
Helena, Montana :: The WiC Project
Omaha, Nebraska :: Mom Endeavors
Reno, Nevada – Lake Tahoe (Northern Nevada) :: Saving in Nevada
Pacific
Fresno, California (Central Valley) :: NerdFamily Blog
Los Angeles, California :: Savings.com
San Diego, California :: Good Cheap Eats
San Diego, California :: Life as MOM
Portland, Oregon :: Frugal Living NW
Seattle, Washington :: Thrifty NW Mom
South Atlantic
Arkansas :: Discovering Arkansas
Washington, DC :: Kidventurous
Clearwater Beach, Florida :: Bargain Briana
Jacksonville, Florida :: Saving The Family Money
Southwest Florida (Ft. Myers area) :: Chaos Is Bliss
St. Augustine, Florida :: Simply St. Augustine
Tallahassee, Florida :: SwagGrabber
Atlanta, Georgia (metro area) :: Hodgepodge
Atlanta, Georgia (metro area) :: The Couponing Couple
Annapolis, Maryland :: The Happy Housewife
Hagerstown, Maryland :: Cheryl Pitt
Asheville, North Carolina :: Paradise Praises
Charlotte, North Carolina :: from our front porch lookin' in…
Raleigh/Southeastern, North Carolina :: Upside Down Homeschooling
Upstate South Carolina :: The Tween & Me
Charlottesville, Virginia :: How to Have it All
Richmond, Virginia :: Teachers of Good Things
Smithfield, Virginia :: Walking in High Cotton
Virginia Beach, Virginia :: The Coupon Challenge
South Central
Coastal Alabama :: Meet Penny
Huntsville, Alabama :: The Traveling Praters
Northern Kentucky :: Simply Sherryl
Chattanooga, Tennessee :: Living Chic on the Cheap
East Tennessee (Smoky Mountains, Knoxville) :: Finding Joy on the Journey
Nashville, Tennessee :: Montessori Tidbits
Arlington, Texas :: Grocery Shop For FREE
Austin, Texas (Hill Country) :: Ponder the Path
College Station, Texas :: How to Homeschool My Child
Dallas, Texas :: Surviving The Stores
East Dallas, Texas :: Funky Faith Girl
Fort Worth, Texas :: Coupons & Freebies Mom
Houston, Texas :: MomsToolbox
Houston, Texas :: MyLitter
Katy, Texas :: Moms Confession
McAllen, Texas (Rio Grande Valley) :: iLoveMy5Kids
San Antonio, Texas :: Melissa's Bargains