Planning a month's worth of meals saves me a ton of time and headache.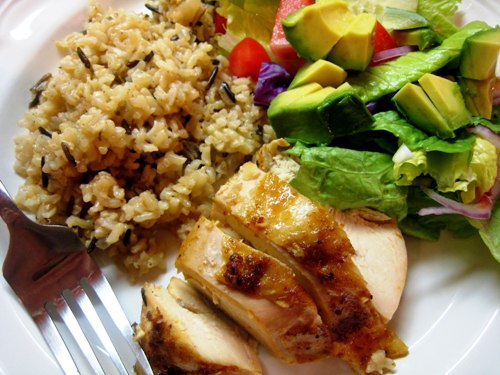 It was so helpful last month to have a meal plan for several weeks at a time. I didn't always follow it, but it gave me a good idea of what we had on hand and what I could make.
This month I decided to do the same thing. We have a lot going on: two birthdays, three to four hockey games and practices per week, a conference where I'm going out of town, two other special occasions. It actually is easier to plan those things all in one fell swoop.
To make it super simple, I set a little pattern for the month to help me narrow down my choices. I'm focusing on a certain ingredient or method each day. It looks like this:
Sunday: Beef
Monday: Rice
Tuesday: Crockpot
Wednesday: Cheese
Thursday: Chicken
Friday: Pizza
Saturday: Easy
So, here's what I've got planned for the month of May:
Shredded Beef Tacos, Mexican Rice, Green Salad
Jambalaya Rice with Chicken and Sausage, Veg
Crockpot Lasagna, Salad, Garlic Bread
Grilled Chicken, Couscous, Green Salad
Tortellini Pasta Salad, Veg, Bread
Grilled Steak, Sauteed Mushrooms, Bleu Cheese Sauce, Baked Potatoes, Green Salad, Cheesecake (It's Mother's Day!)
Paella with Chicken and Shrimp
Slow Cooker Chicken Parmesan, Pasta, Salad
Quesadillas, Salad
Roast Chicken and Potatoes, Vegetables, Biscuits
Popeye Burgers, Fruit Salad, Veggie Dippers
Bday Boy Choice (tbd)
Grilled Chicken Kabobs, Rice, Vegetables
Papa cooks
Papa cooks
Papa cooks
Grilled Salmon, Rice, Salad, Berries and Cream (It's my birthday!)
Broiled Pineapple Chicken, Stirfry Vegetables, Potstickers, Rice
Lasagna, Salad, Garlic Bread
What are YOU having?