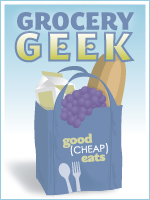 The last week has disappeared before my eyes. As Elizabeth Bennet would say, "I hardly know how to account for it."
Well, yes, yes, I do. I read Pride and Prejudice throughout the week and thoroughly enjoyed it, even thought it was probably the tenth or hundredth time reading that story. Dear Jane Austen still makes me laugh out loud sometimes.
We celebrated Mother's Day and our anniversary in delicious culinary ways: a steak and baked potato dinner for Mother's Day and a night at Rosina's for our anniversary. Yummy on both counts.
Grocery shopping, however, has been haphazard. The refrigerator is too full to let me think straight. I've been too worried about missing those fleeting, seasonal items that I haven't put the produce box on vacation often enough to let us catch up. I'm working on that this week.
Here's how the food procurement activity went down this week:

Costco
Hubs did the Costco run for me, grabbing a few of the things that we regularly get there: cheese, maple syrup, honey, cream, tortillas, bread. The blue cheese was for my special occasions.
Total spent: $85
Trader Joe's
He also went to Trader Joe's where he bought all kinds of fun food.
Total spent: $57
Ralphs
I grabbed milk, steaks, chicken, and a few odds and ends at Ralphs.
Total spent: $47
Abundant Harvest Organics
The box was full of springy type fruits and vegetables: fava beans, English peas, artichokes, lettuce, summer squash, chard, green garlic, strawberries, donut peaches, potatoes, and apriums. I gave the fava beans to my neighbors. Enough already!
That big box of apriums was extra. Unfortunately, they came very badly bruised, and I had to toss a significant number of them because they were moldy. Bummer. The folks at AHOrganics are giving me a refund since these were supposed to be stellar apriums, not the cosmetically challenged ones from last year.
Total spent: $54 (refund pending)
Sprouts
I made a few runs to Sprouts this week, but honestly, I can't even remember them. I guess I didn't capture them on film for posterity.
Total spent: $21
Total spent for the week: $264
So far we're doing pretty well for the month, despite my haphazard purchases. There's plenty of food, but not a lot of convenient, ready-to-go items. This could prove to be troublesome since I'm leaving town for three days at the end of the week. Hubs and the kids will be flying solo. We'll see how that goes.
Total spent month to date: $568
As a reminder: I feed eight people every meal, except for my husband's lunches, which he currently eats away from home. We have a separate dining out budget, which we use about once a week. Our target grocery spending for 8 people is $800/month.