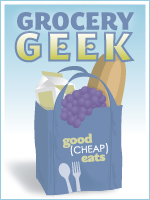 May has always been my very favorite month. It's my birthday!
It's also the month of the FishMama Trifecta. Mother's Day, our anniversary, and my birthday fall within a 15 day period of time. I love it. Not because they make much of me. I'm really a simple girl. At least I am in my old age.
But, for those three days of the month, I get to choose the menu unabashedly in my favor. Hehe. Right now all I can think about is grilled steak and potatoes. I'm not sure I can eat that three times in two weeks. Can I?
So, here we are into May. I did some freezer cooking earlier in the week, so I loaded up on groceries. Here's how it went down.
Costco
I don't really shop at a one-stop shopping place. Each of my favorite grocery stores carries vastly different things. Even if I wasn't searching for the rock bottom price, I'd still be chasing all over town. I'm not sure I like that. Time to figure that one oue.
Costco has great deals on lots of things, but not everything. And yes, be prepared for more trunk or shopping cart photos in the weeks to come. Taking the time to lay it all out on the kitchen table means that my helpers disappear and I'm stuck putting it all away myself.
It's so much easier to just say, "Carry it in and start unloading."
At Costco I bought cheese, milk, tortillas, turkey, yogurt, bread, fruit leathers. Lots of it all for freezer cooking, mainly.
Total spent: $123
Trader Joe's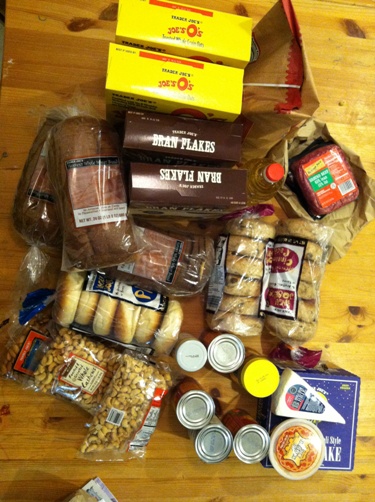 We headed to Trader Joe's on date night. Because we're romantic like that. I got lots more bagels and bread. (Can you tell I don't have time for baking these days?) I also got a few canned items, nuts, Brie for one of my celebrations, apricots, meat, cereal, chips, and hummus.
The chips and hummus are a comfort food. It's been a hard week. 'Nuf said.
Hubby threw in the cheesecake. I decided to go sugar-free this month and see if that helps me reclaim good sleep and energy. I abstained from the cheesecake! That's worth something right there.
Total spent: $82
Abundant Harvest Organics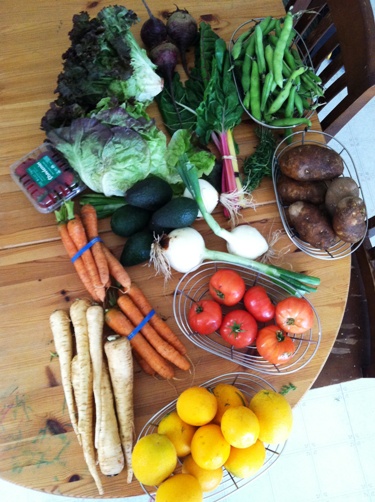 The produce box yielded lots of familiar friends: lemons, parsnips, tomatoes, carrots, strawberries, onions, avocados, chard, lettuce, potatoes, beets. The wild cards were savory and fava beans. Not too sure about those two.
Total spent: $36
Sprouts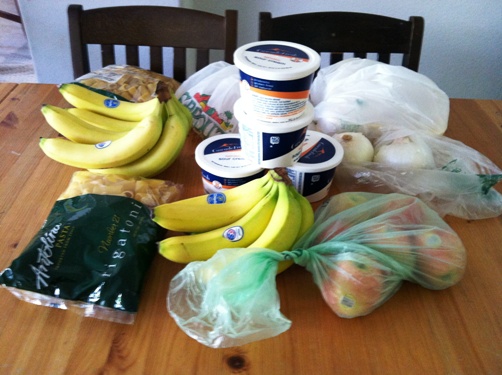 I got the rest of the stuff for freezer cooking ( pasta, sour cream, onions, chicken) and some apples and bananas at Sprouts.
Total spent: $27
It was definitely a lot of food for the week. I wish I could say that the cupboards were bursting, but they are not. My kids are growing and eating like nobody's business. Not everything destined for the freezer actually hit the freezer. You can check out the new cooking plan over at Life as MOM tomorrow.
Total spent for the week: $268
As a reminder: I feed eight people every meal, except for my husband's lunches, which he currently eats away from home. We have a separate dining out budget, which we use about once a week. Our target grocery spending for 8 people is $800/month.