This giveaway is closed. Congrats to the winner, KristyBartlett@
This post does include Amazon affiliate links. If you make a purchase through those links, I am paid a small amount in way of advertising fees.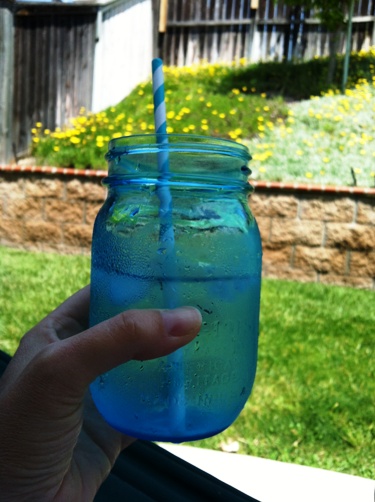 I confess. I have completely embraced the canning jar craze. My go-to drinking glass is a mason jar, preferably wide-mouth, but since I received a set of these blue Ball jars to review, I'm warming to the standard mouth variety.
Especially since they're so stinking cool.
I loved them so much, I went ahead and ordered a dozen more on Amazon. These limited-edition Heritage Collection Pint Jars commemorate the 100th Anniversary of the Ball brothers' Perfect Mason Jar. When they're gone, they're gone. So, if you think you want some, get them now.
Lynn found them at Target. My Target doesn't have them. Check yours.
Canning and me go way back.
To my credit, I've have a collection of canning jars for about fifteen years.  When we lived in the country out on two acres of weeds and fruit trees in Paso Robles, CA, I taught myself to can. Though my Gramma John and many aunts and cousins all put up food every year, my mom never did, so I never learned. Until I was 26 or 27 and I taught myself to make jam. I made olallieberry jam every year until we moved.
I thought for sure I'd have plentiful opportunities to can while living in Kansas City. But, no. We lived in the 'burbs. And in five years I never found a good and cheap source of produce.
Once we moved back to California, I started canning again. I think this is funny, actually, since one would think that the midwest would be a bigger market than the west coast for such a thing. Anywho, I've made batches and batches of homemade jam since coming home.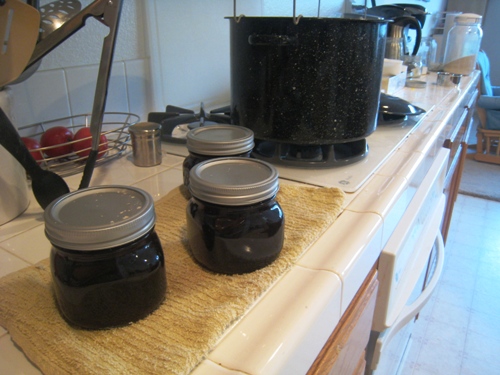 One year it was strawberry, plum and nectarine jams. The next year it was Pomegranate Jelly. So, so good!
Last year I went whole hog. Whole hog, I tell you. I was a canning fiend last year. I made batches upon batches of aprium jam, cherry jam, plum jam, apple butter, and dill pickles.
On Mother's Day, I cracked open the last jar of aprium jam. Love it. It's like sunshine in a jar.
This week, we got ten pounds of apriums and I know what we're going to do with them! In fact, you can guess what the better portion of my day is going to entail. The apriums (a cross between an apricot and a plum) arrived badly bruised so we need to use them up quickly before they spoil. It's made me nervous since the day they arrived. My plan is to try them in juice, but also to make lots and lots of jam.
Ferb, I know what we're going to do today.
Not only do I have my handy blue jars, but I also have two editions of the Ball Blue Book Guide to Preserving, preservation guides that show you all the steps of canning. I love their step by step instructions and illustrations. It is a great refresher when I'm a little out of practice.
I bought one copy years ago; I learned to can from that book. The other copy I bought last year. Both work well. The newer version has some updated recipes and a different format for measuring pectin. The older has tried and true recipes that I love.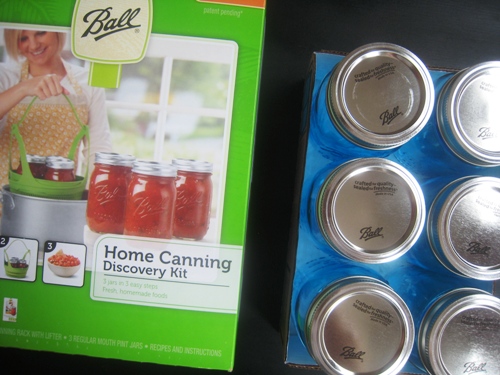 Along with the jars, Ball also sent me the Ball Home Canning Discovery Kit. I have two canners in different sizes as well as the racks that go with them. What I like about the discovery kit is that it transforms any pot into a canner. It looks perfect for making small batches of jam. It will also store a little more easily and compactly than my traditional canners.
I have really loved the pleasure of opening home canned foods. Not only is it simply satisfying from a self-sufficiency stand point, but it also is so tasty! I'm excited that I can share the love with you.
One Good Cheap Eats reader will receive a set of Heritage Collection Pint Jars as well as a Ball Home Canning Discovery Kit.
To Enter:
Simply complete the information on this form. Please know that the information is only being gathered for the purposes of mailing you your prize in the event that you are chosen as the winner. This information will not be sold, traded, or given away.
This promotion is open until Sunday, May 19, 2012 at 8 pm PST and is limited to US residents, 18 years or older. Friends and family of Jessica Fisher and Good Cheap Eats are ineligible for entry. The winners will be chosen randomly. This post will be updated with the beginning of the winner's email address. The prize for this promotion is provided by and shipped by Jarden Home Brands and/or its representatives. Jessica Fisher and Good Cheap Eats will not be held responsible for unclaimed or undelivered prizes.
Disclosure: I have received sample product. All opinions are my own. This post does include Amazon affiliate links. If you make a purchase through those links, I am paid a small amount in way of advertising fees.