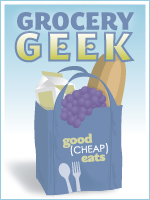 I think that it's safe to say spring has come to California. Or at least to my produce box. Eating seasonally has been such an eye-opening experience for the last couple years that we've been getting a weekly delivery of fruits and vegetables.
This week the box held spring onions, strawberries, peas, and artichokes, sure signs that spring is here.
Not sure what is considered "spring produce", head here for the lowdown.
Grab the deals on Spring Produce!
You should be seeing these items on sale in the coming weeks and they should be at their peak of flavor over the next month or two. Enjoy them while you can. Freeze the extras if you get too much and enjoy them on into the summer and fall.
We've seen asparagus for 88 cents a bundle and strawberries for a buck twenty-five. The deals are to be had!
Here's how the grocery shopping went for us this springy week: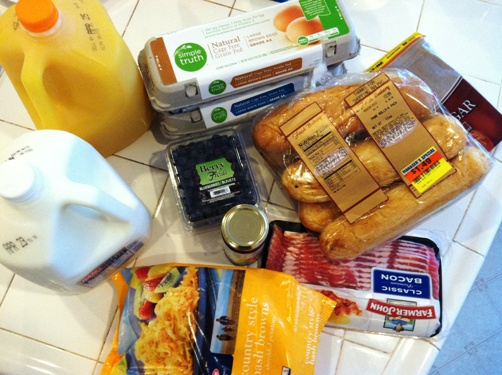 Ralph's
My kids have been begging to go out to breakfast for weeks. I have resisted because if I didn't, hubby would have fallen. He loves breakfast out. But, we always shake our heads afterward when it's so expensive.
For a third of the price, I got all this instead. When I came home, I assigned everyone a job. We had pancakes, hashbrowns, bacon, eggs, orange juice, and french toast. Yay!
Total spent $25.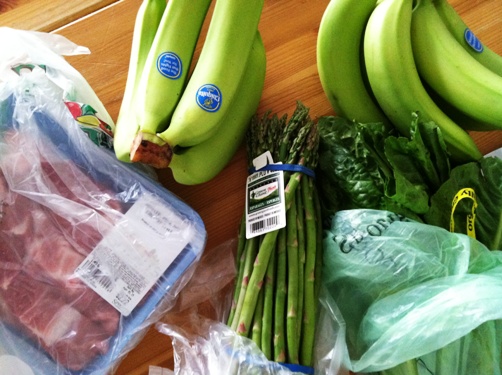 Sprouts
I ended up making two stops at Sprouts this week for a myriad of items: bananas, meat, asparagus, vitamin C, lettuce, clearance matzos, vital wheat gluten, strawberries, avocado.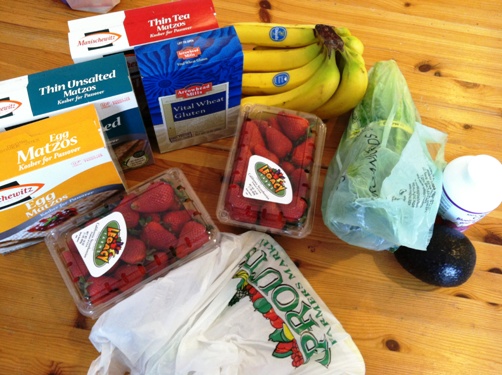 Total spent on both trips $38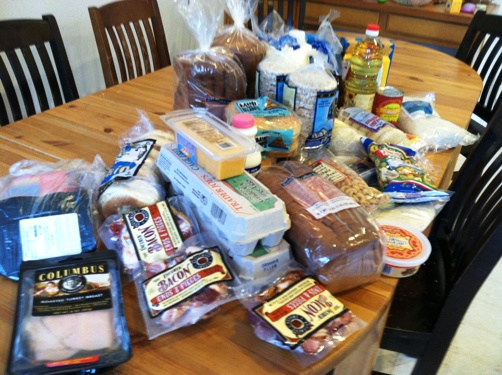 Trader Joe's
The big girl and I went on a date Monday afternoon to the book store where we shared a piece of cheesecake at the cafe and then a grocery trip to Trader Joe's. I bought the usual run of stuff: bread, eggs, bacon, meat, bagels, cheese, nuts, bread, rice cakes, rice, oil, crackers, pasta, and rice.
Total spent $100.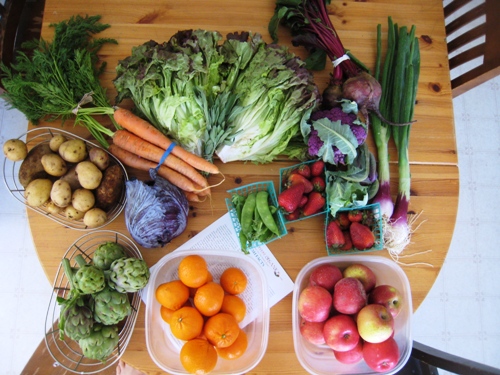 Abundant Harvest Organics
The box contained oranges, apples, artichokes, potatoes, carrots, cabbage, peas, sage, lettuce, strawberries, multicolored cauliflower, beets, and spring onions.
Total spent $36
Costco
My sweet hubby agreed to go to Costco — on a Friday afternoon so I didn't have to. He got everything on the list plus a few extras. Ahem. The jam and this: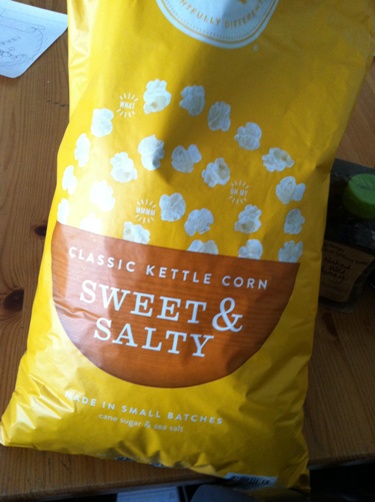 I totally caved. I've been good about avoiding sugar (except for the aforementioned cheesecake), but this was pretty amazingly good. And GMO-free. 😉 Score one for the husband.
Total spent $70. 
Total spent this week: $269
MTD grocery spending: $338