Save time and frustration by planning a month of meals at a time.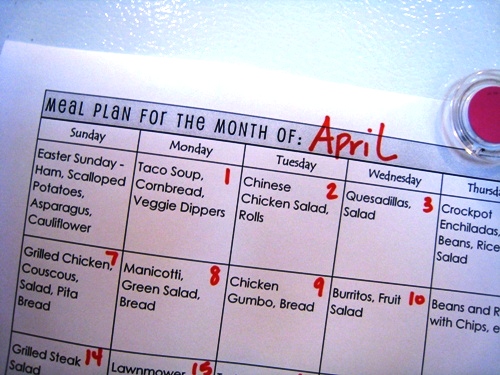 April is here! It's a full month in these here parts. Hockey season is in full swing. School resumes on Tuesday. I have a couple work projects to take care this month.
That said, I decided to make meal planning easy and to do the whole month at one go. You can read more about how to plan for a month of meals here. (For the full run-down of Meal Planning 101, go here.)
For me, it means that I turn to tried and true techniques for feeding my family:
Serve a breakfast bar each morning.
The breakfast bar serves me extremely well. I did a bunch of breakfast freezer cooking over the weekend, so that we have plenty of choices to draw from. Our breakfasts this month will include:
Granola and Yogurt
Breakfast Sliders
Eggs Florentine Casserole
Honey Multi-Grain Rolls
I'll be sharing the cooking plan for these freezer meals over at Life as MOM later this week so that you can recreate it at home.
The stock will run low about halfway through the month around here when I'll need to do another round of breakfast freezer cooking, but I know that it will make our mornings run more smoothly if I've got some of these items to go along with freshly made juices.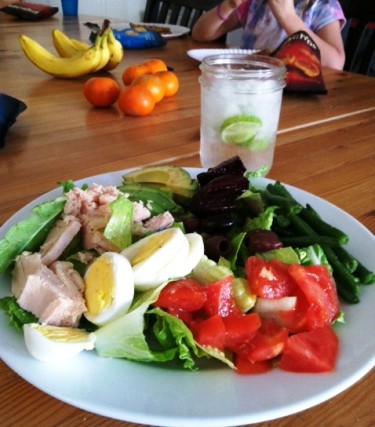 Make lunches simple.
Thanks to homeschooling, we have access to a full kitchen every day at lunchtime. But, that doesn't mean I should cook every day at lunchtime. If I plan simple lunches the kids can fix, our lunchbreak can be quick and easy.
This means keeping things stocked for sandwiches and snacky lunches for the kids, and salads for me as well as a round of fresh fruit and veggie dippers to keep things varied and fresh.
Plan a month of easy dinners.
Yes, the whole month! I know that the next four weeks will be busy ones.
While there are seasons for creativity at dinnertime, this is not one of them. I've got a full plate in April, so dinners need to be easy. I'm drawing from what's in the freezer and what I know I can pull together quickly or better yet, delegate to my people.
Salads, steamed vegetables, and lots of fruit should be in the produce box, so I'll supplement with those items to mix things up. This month won't be boring or repetitive because different side dishes always jazz things up.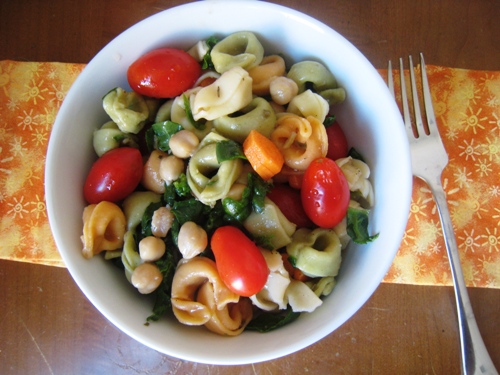 Here's the month's dinner plan:
Chinese Chicken Salad, rolls
Quesadillas, Salad
Crockpot Enchiladas, Beans and Rice, Salad
take-out – BIG hockey night
Grilled Chicken, Couscous, Salad, Homemade Pita Breads
Manicotti, Green Salad, Bread
Chicken Gumbo, Rolls or Cornbread
Burritos, Fruit Salad
Lawnmower Taco, Green Salad
Tortellini Soup, Bread
Quesadillas, Salad
Pasta with Red Sauce, Veg, Bread
take-out
Creamy Pasta with Shrimp, Veg, Rolls
Burritos, Fruit
Jambalaya, Veg, Cornbread
Tortellini Pasta Salad, Veg, Bread
Sandwich Night, Fruit
take-out
That's my month.
What are YOU having?