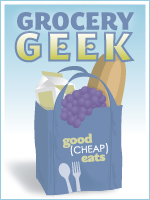 How did March disappear so quickly? I am stunned that April starts next week. I must be old.
Life is plugging along here. The week's vacation has been awesome. I cleaned out the garage, didn't suck too bad on TV, and got some of my fun work done. I caught up with friends on the phone, had a tea party with my girls, and had a nice date with my hubby.
I also went grocery shopping. I didn't realize I had done so much. We've hardly made a dent in it, so we're set going into next month as well. Thank goodness.
Here's how the shopping broke down:
Costco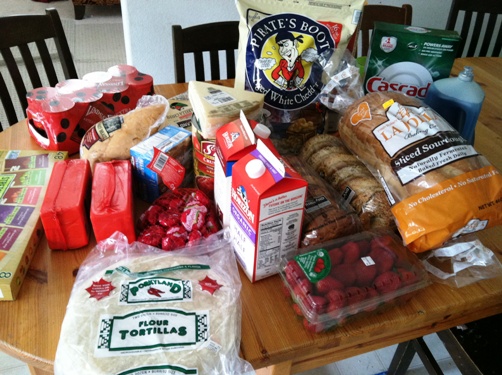 I went to Costco with my eldest son early on Saturday morning. We got there when they opened and were back out in 35 minutes. That's my kind of Costco shopping!
I bought fruit leathers, cheese, milk, half and half, tortillas, awesome organic strawberries, bread, bagels, turkey, butter, olives, and booty.
Total spent: $124
Ralph's
I took my littles with me to Ralphs on Sunday. Costco just didn't have everything I needed. I found some great markdowns as well as sale items that helped stock us into next month. Since the pricing at Ralph's can be so fascinating and give you a good comparison nationwide, here's the breakdown:
flour $2/bag
marked down bread $0.69/bag
ziploc bags $.79
organic celery $1.99
wasabi powder $4.29
sliced almonds $2.19
tortillas $1.99
organic bell pepper $1.50
cilantro $0.99
scallions $1.29
marked down lettuce leaves $1.99
eggs $3.19
chips $1.99
water crackers $0.65
sour cream $1.49
pinto beans $1.89
Total spent: $58
Abundant Harvest Organics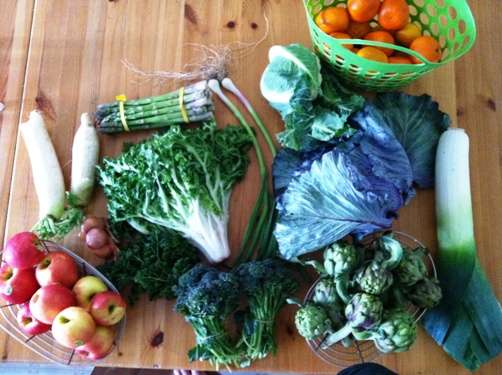 The produce box contained apples, shallots, leeks, daikon radish, broccoli di cicco, artichokes, asparagus, endive, green garlic, cabbage, and cauliflower.
Total spent $37
Trader Joe's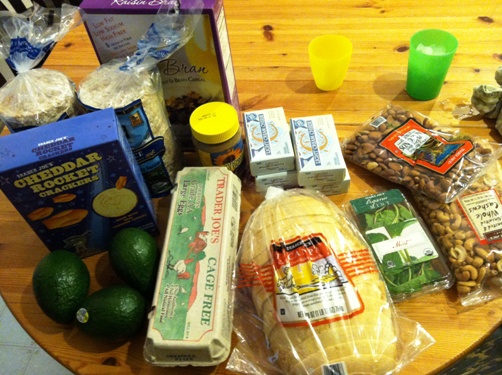 Trader Joe's isn't super close to the house, so when we're remotely near it, I try to stop and get a few things. This time that was nuts, mint, crackers, rice cakes, eggs, bread, avocado, sun butter, cream cheese, and cereal.
Total spent $40
Total spent this week – $259
Total spent in March – $954
I went over my regular monthly goal of $800. I'm not thrilled about that. But, I know that my crazy diet early this month was partially responsible as was buying ahead into next month.
January $451
February $1028
March $954
Yearly average: $811
Looking at the year as a whole always helps. So far this year, we're averaging closer to our goal. Food costs have gone up, and I've been buying things that aren't exactly necessities. We've also eaten out far less, so it's all working out.