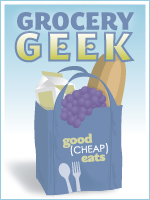 Now that my strict eating regiment is over, I'm not having to go to the store quite as often. I've haven't been able to use up the contents of the produce box in some weeks, so it's a good thing I'm staying out of the stores, too.
I haven't reintroduced all the foods that I left out during my Whole30, but so far, so good. My instincts were right though. Sugar, or carbo-loading for that matter, makes me tired. I'm definitely going to try to keep my sugar intake lower.
Anyway, here's how the shopping went this week:
Trader Joe's
On Sunday, hubs took four kids on errands so they stopped at Trader Joe's. Sorry no picture. They got 2 packs tortillas, 3 harvest whole wheat bread, 2 pane Italiano, and 2 dozen eggs. They might have added other things to the cart, but I've turned a blind eye to that.
Total spent $20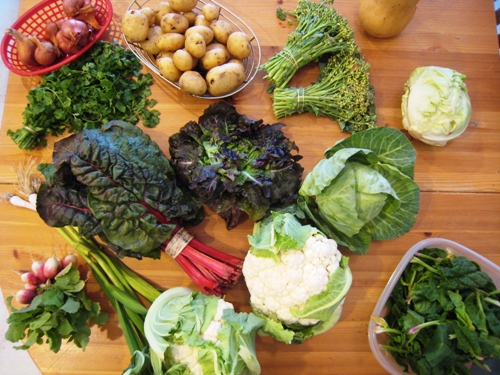 Abundant Harvest Organics
The produce box from Abundant Harvest Organics was full of good stuff: cauliflower, cabbage, lettuce, chard, green garlic, radishes, spinach, potatoes, cilantro, broccoli di cicco, butternut squash, shallots.
Total spent $37
Sprouts
No picture. Pirate's Booty was on sale. We have to bring snack to hockey in a few weeks. I'd rather buy Booty on sale and know that it's a decent snack for a decent price. I got one bag of 12 packs for the kids and one for the hockey team.
Total spent $8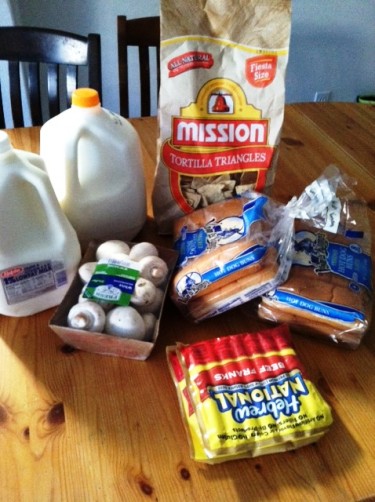 Ralphs
I ran to Ralphs due to a craving for chips and a lack of milk. I came home with hot dogs and mushrooms to boot. At least the hot dogs will be an easy lunch for the kids.
Total spent $20
Total spent this week – $85
Total spent in March – $695