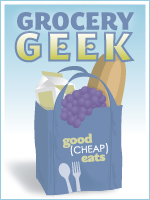 Well, maybe you don't. But, I do. I realize that I am in many ways a woman without a country. I don't fit perfectly into any one social, political, religious, financial, or educational package. I am an eclectic mix of lots of thoughts and habits.
One friend dubbed me a freak of nature.
And you know what? I'm okay with that. (And she said it in a nice way.)
The funny thing is when I have to tell you about my latest hair-brained scheme. I know that half of you might cheer and half of you will shake your heads and think, "What a nut!"
This would be one of those times.
I'm totally laughing inside as I type this, too, so know if you fall in the latter category of readers, I understand.
Yes, yes, I do.
And yes, I will get to the grocery shopping portion of the program soon. Bear with me.
As you may know, I've been feeling chronic pain in my hip and leg muscles for about nine months now. I've talked to my doctor about it twice and twice he's said "it's inflammation" and prescribed drugs. I am in the process of getting a second opinion as well as researching a good chiropractor. As you know health care is complicated in this country.
We are not going to broach that topic here. I have very "woman-without-a-country" views on that topic. I pine for the country doctor who makes house calls and accepts payment in chickens or at least freezer meals. See? Freak of nature.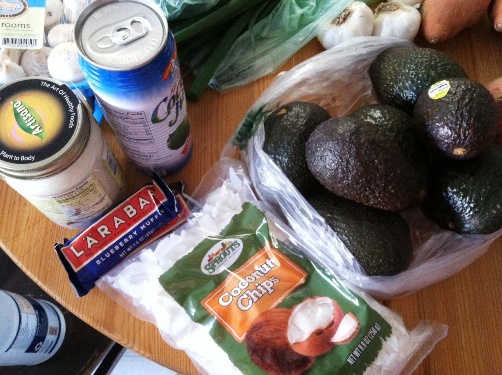 So, while I wait for the stars to align and I find a good doctor or at least an office where I don't sit on hold for twenty minutes before someone picks up the phone, I'm doing a little science experiment on myself.
Many people, including some of you, have suggested that what I eat may be the cause of some of my aches and pains. So, I'm going to go on an elimination diet for the next 30 days. I'm going to abstain from eating a number of foods that might be causing problems in my systems. I've done some research, talked to some friends, and gone grocery shopping to support a gluten-free, grain-free, soy-free, sugar-free, alcohol-free, dairy-free diet for the next thirty days.
Yes, really.
I know. My husband calls it the flavor-free diet. See? Sometimes you feel like a nut.
At the end of thirty days, I hope to feel much better and then can reintroduce those items to see if one of those was a trigger to feeling horrible. Think about how you introduced your baby to solid foods. Only in reverse sort of.
This diet has been described as "a short-term nutritional reset, designed to help you restore a healthy metabolism, heal your digestive tract, calm systemic inflammation and put an end to unhealthy cravings, habits, and relationships with food." It's called a Whole 30. I imagine there are a lot of misconceptions about it, based on the bits and pieces folks read about it on blogs. I know when I first heard about it, I thought folks were pretty nutty about it.
But, two friends have tried it and had great success, so it intrigued me. I went ahead and bought a book about it, It Starts with Food on Kindle and feel like I have a handle on the why's and wherefore's. I think.
Anyway, I started the eating plan on Friday. It guided how I grocery shopped this week. And how I've planned next week's meals. This could get interesting. If you'd like to follow the craziness journey, I'll be posting a food log fairly haphazardly over here. You can also reassure yourselves that I won't be starving myself.
I'm a little nervous since I am the bread and cheese, eat-a-whole-bowl-of-artichoke-dip kind of girl. But, I think food is good medicine. And it can't hurt me to eat a gentler diet for a season and see if that cures what ails me.
In the meantime, here's the grocery geek report, now that I've explained why I spent more than I thought I would a week ago.
Wake up! The trailers are over now….
Sprouts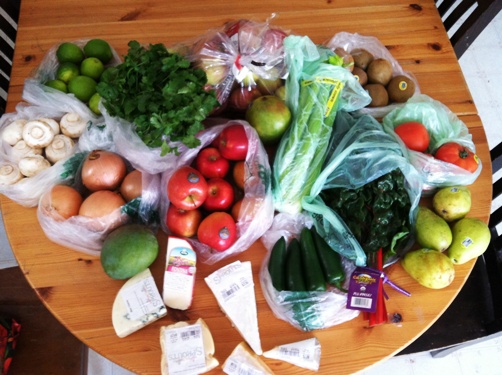 I think it was Sunday that I made a run for Sprouts. I wasn't yet percolating this diet idea but was just stocking up on fruits and veg and cheese to be fancy. I've been trying to get us eating more and juicing more fruits and vegetables and there were some good sales.
I bought the following: mangoes, cilantro, jalapenos, kiwi, limes, pears, apples, tomatoes (that I just noticed was overcharged on – ouch!), chard, celery, mushrooms, and onions. All this was mostly organic produce, and then there was the vast selections of cheeses.
I paid $47
Trader Joe's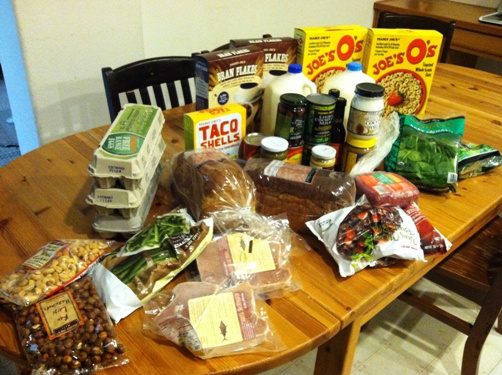 Hubby and I went to Trader Joe's after dinner on date night. I'd decided I was going to take the plunge on this science experiment. Since part of my new eating regime means foods without additives, I knew I could score those pretty easily at TJ's.
Since I'll be eating grain-free and dairy-free, the cereal, bread, and taco shells are clearly for the fam as is the milk. Foods that are mainly for me are the fish, nuts, beans, berries, greens, olives, coconut milk. We'll all enjoy the other things.
I spent $120 at Trader Joe's. 
Abundant Harvest Organics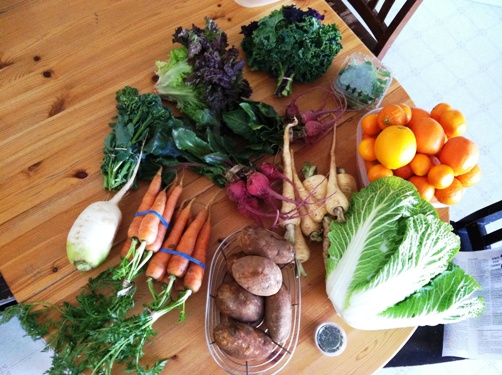 I probably wouldn't be attempting this adventure if it wasn't for our subscription to Abundant Harvest Organics. I've learned so much about the world of veg in the last 18 months.
This week's box contained daikon radish, carrots, potatoes, dried mint, napa cabbage, parsnips, oranges, parsnips, beets, broccoli di cicco, kale, lettuce, and mache.
I paid $36 for the box.
Sprouts, again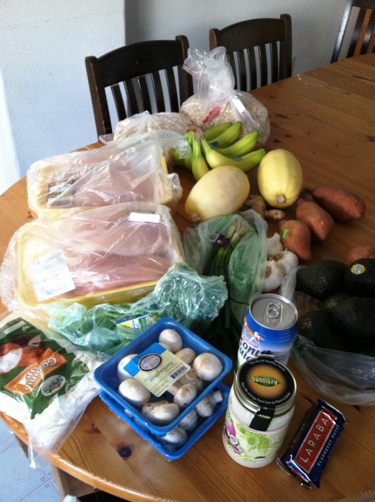 I went back to Sprouts on Wednesday's double ad day to make sure that I had everything to hold me over for the next week: chicken on sale for $1.99/pound, avocados, sweet potatoes, bananas, garlic, onions, parsley, mushrooms, and squash. I also added a few newcomers to the pantry: coconut chips, coconut butter, coconut water, and Larabars.
Sometimes you feel like a nut….
Oats were on sale so I made sure we had enough for the fam.
Total spent at Sprouts: $62.
This week I spent more than I planned to as of last week at this time. But, a lot's changed since then, too. Here's hoping the investment is worth it.
Total spent this week: $265
Total spent this month: $654