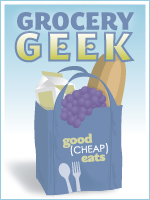 Did you miss me? I had every intention to be popping my head in this space at least a few times this week. But, last weekend's freezer cooking session followed by some small family emergencies kept me from chatting too much.
The best I could do was this awesome sandwich. Have you tried it yet? It's a must-try. The grilled onions and spicy mayo make it so much more than just a turkey and cheese.
Once I got the freezer loaded with some meals last weekend, the week just seemed to run away from me. So, let's do some catch up, shall we?
Pantry Challenge Savings
According to my informal poll, 74 of us participated in the Pantry Challenge, saving a cumulative $16,500. Isn't that amazing?! Wow! Thanks to the reader who pointed out that together we did amazingly well.
$16,500! Good job, friends.
Grocery Shopping this month
Once the Pantry Challenge ended, I tried not to go too crazy. I had two purposes with my grocery shopping.
to take advantage of the Ralph's Buy 10 sale.
to get what we needed for this month's Freezer Cooking plan.
I was able to do both as well as include what we needed during the days. I stocked up on things that were killer deals as well as cooked ahead for the coming weeks. I figure I have dinners for 2 to 3 weeks socked away.
Here's how it broke down:
Ralphs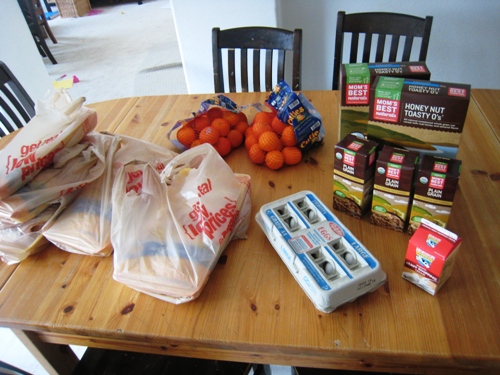 The Ralphs Buy 10 sale spanned two weeks. I think I shopped it at least twice, stocking up on Peets coffee ($7.99), canned beans ($.49), and cereal ($.99). I never buy cereal, but this was a quality brand for a buck a box, so I went for it. I don't have great photos of any of those trips. They were usually late at night.
I also bought the well-priced items that I needed for freezer cooking, like chicken for $0.99/pound. I ended up spending $100 on groceries at Ralphs.
Sprouts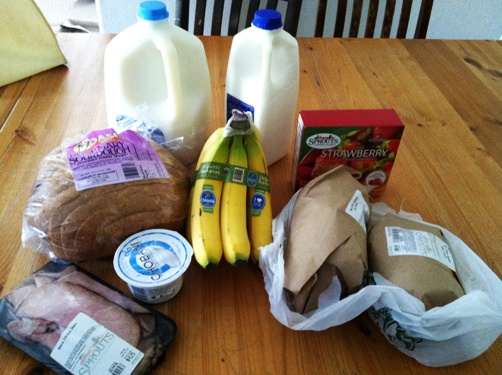 Sprouts was nothing too exciting. A few odds and ends and some convenience items before I could get to Costco. Missing from the pic are the frozen berries I bought to bake pies. I spent a total of $32 at Sprouts.
Costco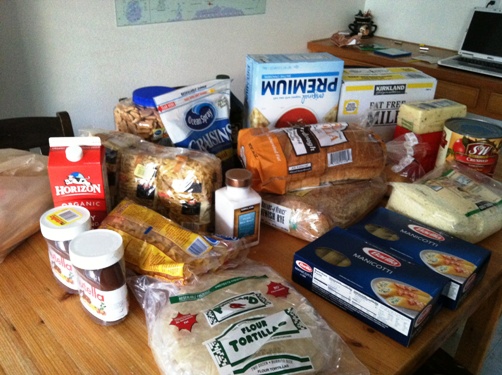 A lot of the Costco stuff was for freezer cooking, but there were also somethings to cover breakfasts and lunches. I spent $134 at Costco.
Trader Joe's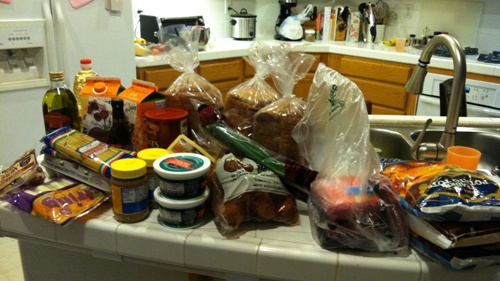 My stop at  Trader Joe's was a combination of Super Bowl, lunches, and freezer cooking. I spent $85 at Trader Joe's.
Abundant Harvest Organics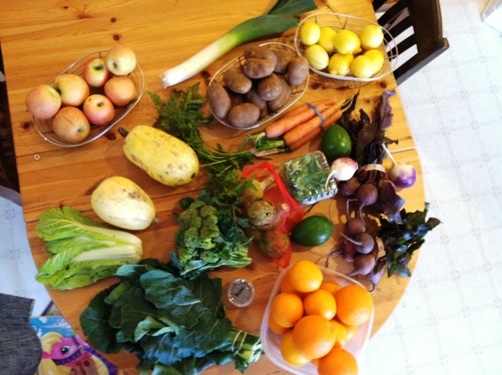 The produce box this week included collards, napa cabbage, spaghetti squash, a type of heirloom broccoli, dried thyme, mache, avocados, oranges, beets, carrots, apples, potatoes, lemons, and leeks. I ordered an add-on of baby artichokes.
I gave the collards and one squash to a friend. We're slowly working our way through the rest. Love this box!
I spent a total of $38 on the box.
Total spent this month: $389
Just as a reminder: I feed 8 people, ages 50M, 40F, 15M, 12M, 10M, 8M, 6F, 4F. The guys far outeat us women. We shoot for $800/month. What we've spent so far this month has almost got me back in my comfort zone in terms of ingredients to work from. I've done some batch cooking so the freezer is back to half full. The veggie drawer is brimming.
I may have spent half of February's money already, but we're back to almost half full anyway, so I think we're good.
Ways that I can save again this month:
The Pantry Challenge was a TON of work, but it also saved quite a bit of cash. While I don't want to go that hardcore this month, there are still ways in which I can keep costs low(er).
1. Bake more.
The flour supply is running low. So, I'll need to restock in order to really keep us in bread and baked goods. My list for next week includes both sandwich bread and flour tortillas, things I don't really like to make myself. But, I can find suitable alternatives that I can bake on my own, time and motivation permitting.
2. Adjust the produce box.
Last month I put the box on vacation for one week, allowing us time to catch up on what we had. We currently have a glut of potatoes, turnips, and rutabagas. I'll need to do some mashing this weekend, I think.
If the month gets away from me, I can put one of the later week's boxes on vacation.
3. Shop my kitchen, of course!
Eating from the pantry is really my regular mode of operation. You'll see in tomorrow's meal planning post that we pretty much have everything we need for the week. All our meals except 1 (out of 21) use items already in my possession. My grocery list is merely "extras" that would be nice to have, like beef in Saturday's chili or mushrooms on Friday's pizza. We can live without those things if we need to.
So that's the State of the Grocery Geek this week.
Are you back to shopping as usual or are you still on the Pantry Challenge?