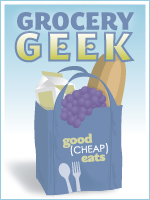 As I mentioned last week, I'm doing a Whole 30, a nutritional reset or selective fast in order to troubleshoot which foods might give you trouble. By eliminating five key potential problems (soy, sugar, dairy, grain, and alcohol) from my body, I'm in a stage of detox. Between you and me, I think I was nipping from the sugar bowl a little too much.
Understandably, this new diet dictates how I shop. While I had done a good amount of freezer cooking several weeks ago, I had not anticipated doing this right now. Unfortunately, almost every meal I made contained one or more of the forbidden foods, namely cheese or  grain.
So, while my family can enjoy those meals — and they have — I have not. So, that means a little grocery shopping. I probably overbought a little here at the beginning since I wasn't sure how the diet was going to play out. You can read the updates over here.
Yes, I'm daily blogging the Whole 30. Journaling has always been a good way for me to process my thoughts. Since many of you mentioned that you've been interested in doing this kind of diet but were curious what it really looked like…. well, you can get the low-down right here.
In a few words:  I have an amazing return of energy.
In other news, here's how I shopped this week: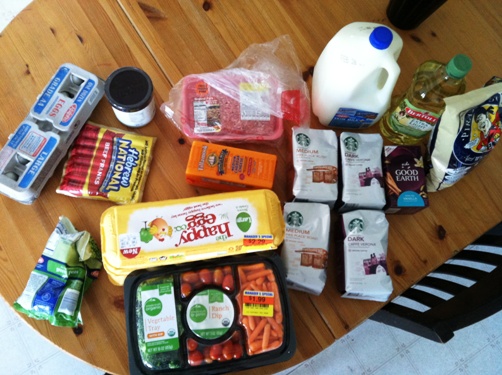 Ralphs
Over the weekend I headed to Ralphs. I had a few free coupons (for eggs and hot dogs) and then I cruised the sales as well. I had coupons for coffee; Happy (free range) Eggs were on clearance; and organic veggie trays were, too. Here's how it broke down:
Ralphs eggs – free with coupon
gelato – free with coupon
Hebrew National hot dogs – free with coupon
organic vegetable trays $1.75 each after produce coupons
Happy Eggs – $2.29/dozen
frozen peas – $1
Starbucks coffee – $7.99 minus coupons varying $1 – $2/package
ground pork – $4
Tillamook cheddar – $9 after coupon
milk – $2.89
light olive oil – $18.99
Good Earth tea $3.89 after coupon
Pirate's Booty – $1.74
The cheese, gelato, milk, and Booty are for my family, obviously.
Total spent at Ralphs: $75
Trader Joe's
On date night — because we're wild and crazy people — we headed over to Trader Joe's for more greens, mushrooms, avocados, nuts, bread, milk, yourt, pasta, red wine vinegar, almond meal, proscuitto, roast beef, yogurt, sparkling water.
While Trader Joe's isn't the cheapest game in town, it has the best guarantee for quality products. Since one of the guidelines of the diet is to avoid food additives and fake food, I know that I have a better chance to be compliant at TJ's.
The milk, pasta, yogurt, and bread are for the fam.
Total spent at TJ's: $55
Abundant Harvest Organics
Thanks to the produce box, I have lots of great produce to draw from. Except for the potatoes, all this is "legal". Subscribing to Abundant Harvest Organics was one of the best things I ever did.
This week's box contained shallots, watermelon radishes, turnips, apples, lettuce, broccoli di cicco, mandarin oranges, Romanesco cauliflower.
Total spent for the produce box: $37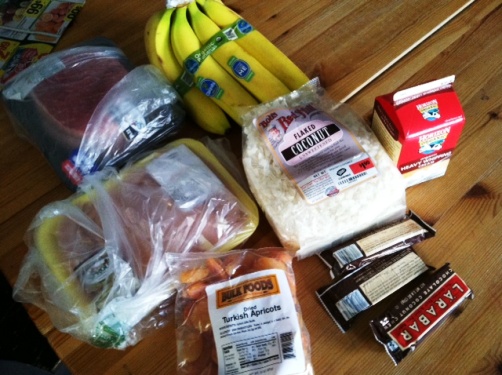 Sprouts
At Sprouts, I grabbed things that were going off sale: meats and coconut products that help this diet stay satisfying. The cream was for hubby's coffee.
Total spent at Sprouts: $25
There's a week left in the month. I've got a produce box coming. And we're out of milk. So, obviously, I'll be shopping a little more. Yes, I'm already over my budgeted $800/month for the 8 of us. On the other hand, we're not eating out since it's way easier for me to cook for myself at home than badger a waiter about how things are prepared. And I did save a lot last month on the pantry challenge, so it will all work out.
Total spent this week: $192
Total spent this month: $846