This is Day 7 of my month-long Pantry Challenge series  where we're eating down the pantry (and freezer and fridge) to use up what we have, rotate stock, and save some cash. Today I cleaned out the pantry.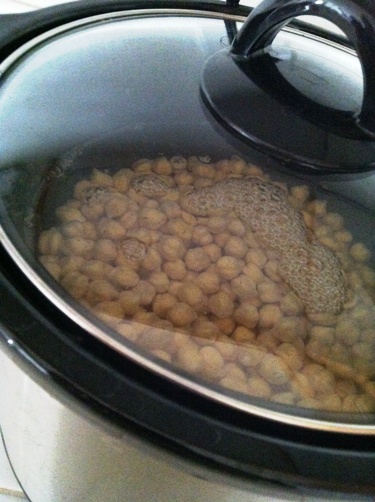 I forget how consuming a pantry challenge is, of my mind and my time. I feel like I got little done today, but when I think inside the kitchen, I realize that I did accomplish a few small, but great things.
First up I cooked a big pot of garbanzo beans (aka chick peas). I've been using canned beans on my salads for months, but I knew that I could save money and enjoy them more often if I cooked from dried. Yesterday I got the dry beans soaking. This morning I got them cooking in the slow cooker. By later afternoon, they were perfectly cooked. I'll be posting a tutorial on these legumes as well as what to do with them next week. I love them.
So, what else was cooking on Day 7 you ask? Voila:
Breakfast
This morning I laid out the breakfast bar with choices of yogurt, applesauce, pumpkin bread, energy bars, granola, and oatmeal. Everyone had his choice. You can see mine above.
I actually cheated last week and used butternut squash instead of pumpkin in the bread. I guess I forgot to tell you that. It worked out very well. The squash made the bread super moist.
Lunch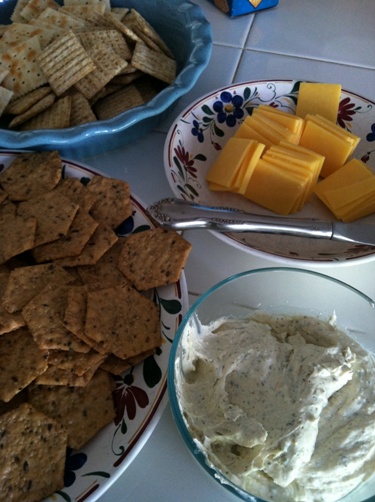 For lunch I had planned a Snacky Lunch. I knew we had crackers and cheddar. I also experimented by making our own garlic and herby "Spready Cheese". You might recognize it as Boursin, Alouette, or Rondele at the store. Around here we call it "spready cheese".
I tried making my own. Seeing as the store bought version is $4 to 6 and I can make it for less than a buck fifty, I figured it was worth my while.
The kids ate it right away and loved it. Hubs tried it when he came home from work. He thought the flavors were a little strong. I'm guessing that might be that it had had a chance to chill and meld flavors more in the time between lunch and his homecoming.
A little more testing and I'll be sharing the recipe for that, too.
Dinner
[sorry, no pic, I was eating]
FishBoy12 liked tonight's meal plan, so he chose to do the prep work even though he just cooked on Saturday night. He seasoned the pork roast and got it cooking in the slow cooker. He mixed the dough for the Pumpkin Onion Rolls and formed the rolls.
We had carrot sticks as a side and topped the sandwiches with BBQ sauce from the freezer, homemade pickles. I tried some of the pickled Daikon on it, but it didn't have much flavor. Maybe that will increase in a few days?
Day 7 Menus:

Breakfast: Breakfast Bar of Energy Bars (cookbook), Slowcooker Applesauce, Pumpkin Bread, yogurt, granola, oatmeal
Lunch: Snacky Lunch
Dinner: BBQ Pork Sandwiches, Pumpkin Onion Rolls, Homemade Pickles, Carrot Sticks
And a Pantry Clean-up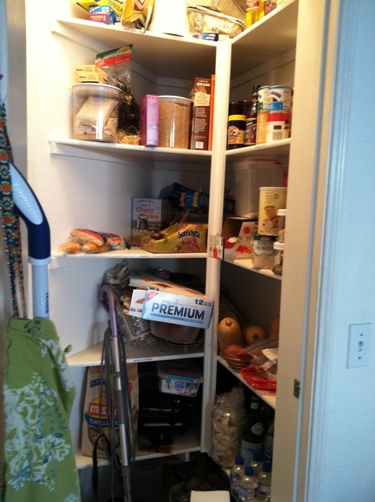 See that? That is a messy pantry. It's what I've been ignoring for a few weeks. The configuration of this closet is so awkward that it lends itself to weirdness. Things just get jumbled and it's hard to keep things straight.
Or maybe I'm just lazy.
Either way, when I reached in for crackers at lunch time and saw that I already had almonds and hadn't needed to buy any yesterday, I figured it was a good time to see what we did have. There's a lot in there!
I didn't inventory it yet, but it's on my mind to do tonight. That will make meal planning so much easier. Especially to remember that I have three butternut squash to use up!
I also found the makings of s'mores as well as an evaporated milk. So no more cream shortage. Though, I might still want to put ice cream in my coffee sometimes.
So, that's my day in the kitchen.
How was YOURS?
This post is part of a month-long Pantry Challenge series. You can read more about my goals for the challenge here.