This is Day 6 of my month-long Pantry Challenge series  where we're eating down the pantry (and freezer and fridge) to use up what we have, rotate stock, and save some cash. I even had ice cream for breakfast.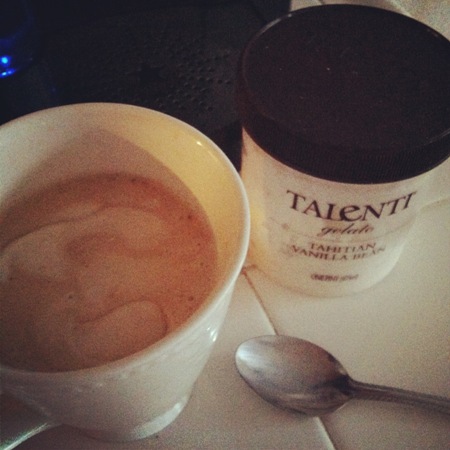 This challenge is proving to keep me on my toes. In order to keep my family calm and orderly, I have to make sure that meals are timely and plentiful. Else, someone might suggest take-out. I know we have enough food in the house, so I want to make sure that we're eating what we have as well as being intentional about eating out.
Here's how it went down for Day 6:
Breakfast
We were out of eggs, milk, and cream when I woke this morning. But, I knew this already and I'd made a meal plan to accommodate that. I thawed energy bars and Breakfast Cookies for our meal. FishBoy12 made Hot Cocoa Mix. I only had to figure out a cream alternative.
I had no canned milk, so I did what proved to be a very tasty option: gelato. Talenti Tahitian Vanilla Bean, to be exact. It was the best cup of coffee I've had in months!
Lunch
For lunch I served the chili that I made yesterday along with cheese and salsa for toppings and saltines on the side. The fam gobbled it down except for about three cups' worth that we'll use for chili dogs later this week.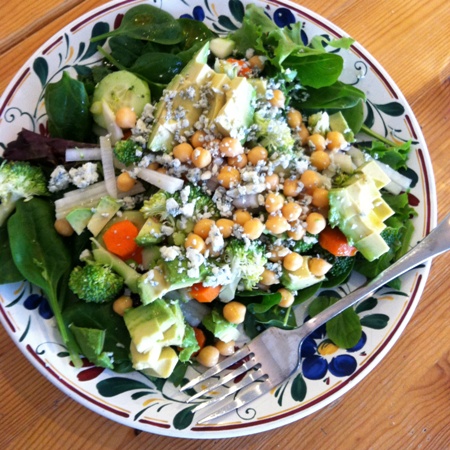 I opted for a salad for me. Surprise! I just like salads. Ask my college roommates. I'd have a salad every night in the dorms.
Today I raided the veggie drawer and found remnants from the produce box TWO weeks ago: half a head of broccoli, a lonely green onion, the largest daikon radishes on earth. I also had a cucumber from Christmas. I added my usual: avocado, garbanzo beans, and you guessed it, bleu cheese.
I pickled one of the daikon radishes per suggestions on Facebook. Hopefully, it doesn't smell as bad as folks are promising it will. Yikes!
Dinner
Dinner was very tasty: Grilled Fish with leftover Almond-Lime Butter (cookbook),  TV Potatoes from the freezer(cookbook), Salad, and Roasted Delicata Squash (produce box from forever ago).
Some of my kids balked at the squash and there wasn't as much fish as everyone would have liked, but it was "enough".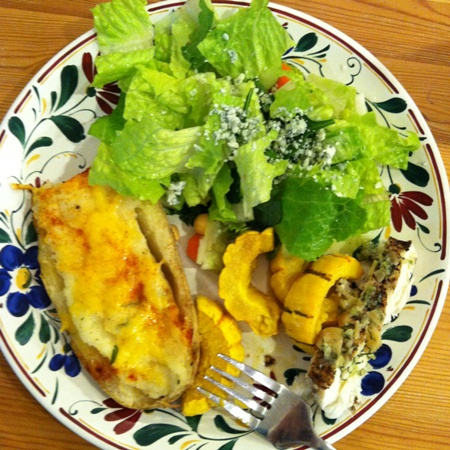 It was a microfish supper. 😉 Sigh, only those of you older than the internet are going to get that joke. Yes, I am older than the internet.
Day 6 Menus:

Breakfast: Energy Bars (cookbook), Breakfast Cookies, Apples
Lunch: Chili with Toppings and Crackers
Dinner: Grilled Fish with leftover Almond-Lime Butter (cookbook), TV Potatoes from the freezer(cookbook), Salad, Roasted Delicata Squash
And a Grocery Trip!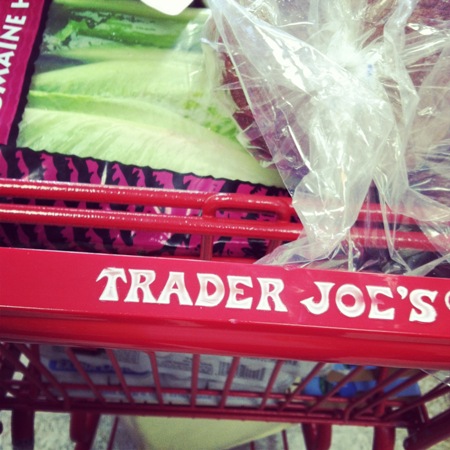 Today I did end up going to Trader Joe's. I had already made a week's meal plan and made a list of the bare minimum:
2 1/2 gallons milk
pint cream
2 quarts kefir
yogurt
3 dozen eggs
lettuce, carrots and cucumbers
pears
tortillas
sandwich bread
It was so hard to stick to the list! I know where everything is located at Trader Joe's and I had to keep myself from going down aisles I didn't need to go. Difficult! Trader Joe's has such fun food.
But, I did do it. Well, except for the almonds, but those are FishPapa's snack food. And I love that FishPapa.
FishChick6 and I had already spent an hour at the fabric store, so we really didn't have much time to lollygag at the grocer's anyway. We spent $52 on all this: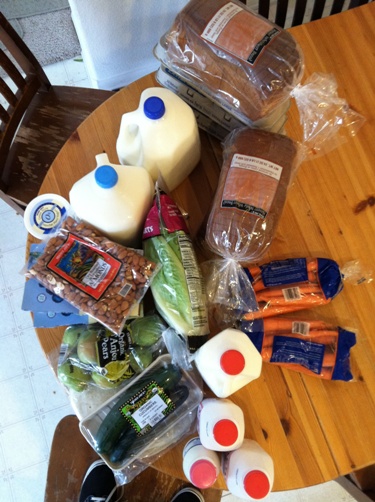 I know. I could bake the bread, but I've already got baking on the list quite a bit this week. I've decided not to tempt myself to exasperation. I bought some pricier yogurt as well as two quarts of fat milk to make my own yogurt, too.
(And, no, I'm not going to try making my own kefir. A girl has to draw the line somewhere. That's my line.)
So, there we are. Six days down.
How'd you do today?
Tomorrow at 8 am I'll have a linky for you to share your pantry challenge update. Be sure to link back here as a courtesy to your lovely hostess. 😉
This post is part of a month-long Pantry Challenge series. You can read more about my goals for the challenge here.