This is Day 5 of my month-long Pantry Challenge series  where we're eating down the pantry (and freezer and fridge) to use up what we have, rotate stock, and save some cash. Slow cooking was the theme.
Today dragged and flew at the same time. I had so much to do and each individual task seem to take a day in itself, but of course, the day disappeared before it all got done. I suppose that is life.
At least we ate well.
Breakfast
According to my meal plan and my kids' weekend preferences, we had a full breakfast. For us that means, eggs, meat, potatoes, pancakes — basically whatever they'd get if we went out to breakfast.
One child requested we go out tomorrow when hubby has the day off. It was a great time to explain the dollars and sense of it. I can make at least 5 breakfasts at home for the price of one out at a restaurant. As much as I love letting someone else do the cooking and the dishes, it's lost its lustre. We can cook just as well at home.
My 8yo cracked eggs and flipped pancakes while my eldest made ham and eggs. We baked the bacon leftover from NYE's stuffed mushrooms and cooked up some hashbrowns. Since the milk is running low, I used powdered milk in the pancakes
And since I still had that baby kale in my mind after last night's pizza, I made my own Bacon, Egg, and Kale skillet. So good. Especially with a side of hashbrowns and some hot pepper sauce.
Lunch
We didn't finish up breakfast until 11. See how long things took around here?! Why did breakfast take 2 hours to make, eat, and clean up?!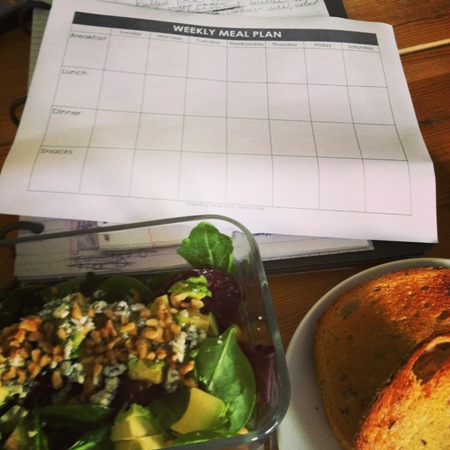 That meant lunch was late. I had a salad. Yes, again. Salads make me happy. With bleu cheese. I had greens, kale, garbanzo beans, an avocado, and a roast beet from the freezer. Oh, and bleu cheese. I also toasted the last two slices of rye bread, including the very thick heel, to go with.
The kids had sunbutter crackers and freeze-dried fruit snacks.
I had meant for us to have chili for lunch, but because everything was ssssllllooooooowwwww around here, it wasn't done in time. I didn't get the beans into the slow cooker until about 9. But, that means we have one meal already prepped for tomorrow. Win.
I took lunchtime as an opportunity to plan out next week's meals. I'm excited about using up things. Those little random bits in the freezer are haunting me.
Dinner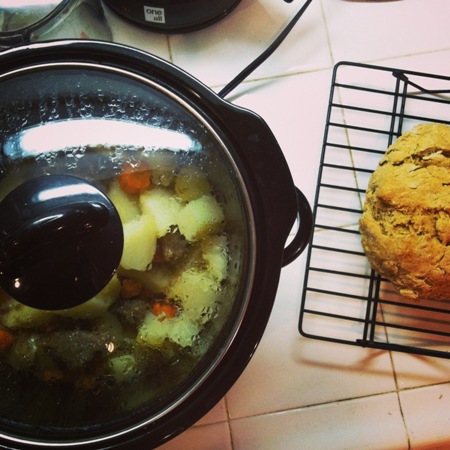 FishBoy12 was in charge of dinner. Earlier in the day he made Irish Stew in the slow cooker which meant we had both slow cookers going. See? Slow cooking — theme of the day.
He followed that up with Irish Soda Bread. We  had  sweet corn (from the freezer) on the side.
I like this thing about having kids cook!
Day 4 Menus

Breakfast: Ham and Eggs, Bacon, Pancakes, Hashbrowns, Bacon, Egg, and Kale skillet for the mom

Lunch: sunbutter crackers, freeze-dried fruit snacks, salad for the mom

Dinner: Irish Stew, Irish Soda Bread, sweet corn
I am probably going to need to go to the store for milk, cream, eggs, and a handful of other things. I'll keep you posted. I'll share next week's meal plan tomorrow.
How's the pantry challenge treating you?