This is Day 4 of my month-long Pantry Challenge series  where we're eating down the pantry (and freezer and fridge) to use up what we have, rotate stock, and save some cash. I even put kale on a pizza.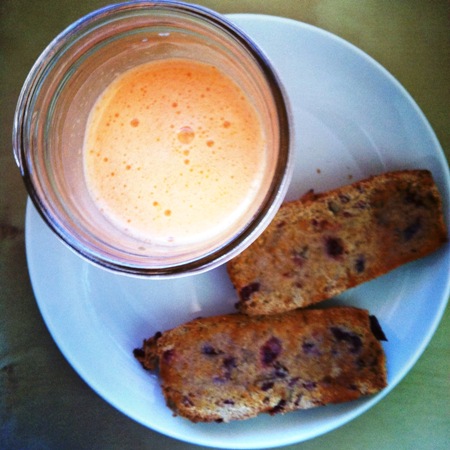 We're getting into the swing of things with this month-long Pantry Challenge. (Not sure what I'm talking about? Head here for the details.)
Things are starting to get fun, especially as I see clean space in the refrigerator. I love open space in there! We don't get a produce delivery until Wednesday, so I'm going to enjoy watching it empty.
I find that during a Pantry Challenge, I'm much more disciplined to use up the leftovers and my creative juices start going. It helps that you are keeping me accountable, too, so thank you.
I'm starting to feel a little energized about the challenge. While I have a little grocery list going, I'm going to hold off going to the store as long as my people will let me. That might be as long as 24 hours. We'll see.
So far, I've only purchased snack size ziptop bags for our instant oatmeal packets. (I don't normally count paper and wraps in my grocery totals, but I'm going to for that since I couldn't have made the packets without the bags. Hubby also bought some coffee. But, we're on the last gallon of milk, last dozen eggs, etc.
Anywho, here's how we ate today:
Breakfast
Since I had done all that breakfast freezer cooking yesterday — go here to download the cooking plan — I had plenty of things to lay out for a Breakfast Bar: Cranberry-Orange Granola, Wholesome Energy Bars (cookbook), Better Instant Oatmeal Packets, Slowcooker Applesauce, and Orange Juice.
I ended up eating later than the kids so I toasted and buttered my energy bar and made a homemade juice of carrots, apples, and ginger. Yum! I'd already had coffee, so I called it my Second Breakfast.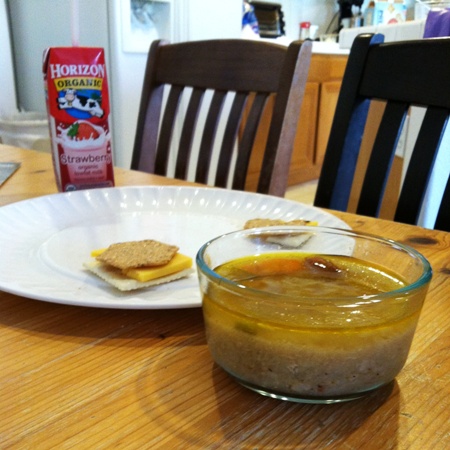 Lunch
We ended up having a late lunch of repeats.
I reheated the LO (leftover) Chicken Gumbo for the kids and served it with cheese and crackers. I had some strawberry milk boxes that I had bought for stockings, but didn't have room for. They had those with their lunch.
I had a repeat of yesterday's lunch minus the egg: Green Salad with Homemade Croutons, avocado, carrots, garbanzo beans, and bleu cheese.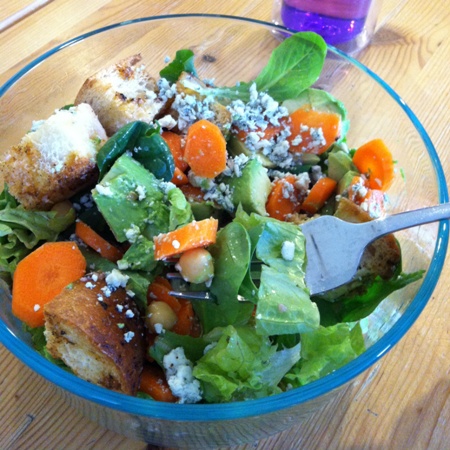 Bleu cheese makes me happy.
Dinner
We have pizza on most Friday nights. Tonight was FishBoy10's turn to cook. He stirred up a batch of Five-Minute Artisan Bread Dough in the afternoon. The dough turned out to be a little unwieldy for him. So, I formed the crusts and he did the toppings of the Pepperoni Pizzas.
While he was doing those — it was heavenly to be able to delegate that, by the way — I made an experiment: Kale Pizza with Peppers, Onions, and Three-Cheeses.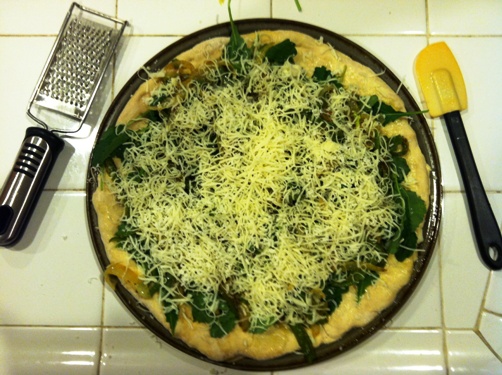 Yes, really. It was amazingly good, especially since I loaded it with cheese. It almost cried out for a fried egg on top. They do that in France, you know. And I love fried eggs with greens, so I may try that next time. They just crack it onto the pizza and the egg cooks at the same time as the pizza.
I brushed the crust with olive oil and garlic, layered on baby kale that I had bought last weekend on markdown. Then I sauteed a green pepper, chopped garlic, and half an onion in olive oil and seasoned it with Jamie's Spice Mix (cookbook). The sauteed veg went over the bed of kale and I topped it with mozzarella, jack, and asiago. So good!
I almost always make my own funky kind of pizza on pizza night. I don't like pepperoni. Blech.
Day 4 Menus

Breakfast: Breakfast Bar of Cranberry-Orange Granola, Wholesome Energy Bars (cookbook), Better Instant Oatmeal Packets, Slowcooker Applesauce, and Juice/Coffee

Lunch: Chicken Gumbo, Cheese and Crackers, Strawberry Milk for the kids; Salad for the mom

Dinner: Pizza Night
So, that's our Day 4.
How did yours go?
This post is part of a month-long Pantry Challenge series. You can read more about my goals for the challenge here.