This is Day 28 and the final day of my (mostly) month-long Pantry Challenge series  where we're eating down the pantry (and freezer and fridge) to use up what we have, rotate stock, and save some cash. Tonight's dinner was awesome.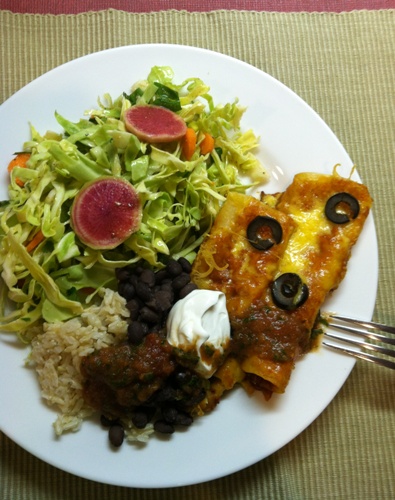 Today was our last "official" day of the Pantry Challenge. I usually plan half our meals from what we already have, but I usually actively stockpile as well. This past month, I opted out of stockpiling and worked on using what we had.
I don't know why I ignored the vegetable drawer the last few weeks. It was filled with yummy goodness. Those watermelon radishes? Awesome. I made a wonderful cumin-scented cabbage salad tonight. It was amazing. Recipe coming later this week.
I also made Cheese Enchiladas, reheated some beans from the freezer, steamed rice, and made some salsa. Let's just say we went out with a bang. Dinner was amazing.
Breakfast and Lunch were kinda so-so. We started the day with Pumpkin Bread, Instant Oatmeal, granola,, and oranges. Lunch was leftovers.
And so it ends.
Day 28 Menus

Breakfast: Breakfast Bar of Pumpkin Bread, Instant Oatmeal, granola, and oranges
Lunch: Leftovers
Dinner: Cheese Enchiladas, Rice, Beans, Cabbage Salad
How did today go for YOU?
This post is part of a month-long Pantry Challenge series. You can read more about my goals for the challenge here.