This is Day 25 of my month-long Pantry Challenge series  where we're eating down the pantry (and freezer and fridge) to use up what we have, rotate stock, and save some cash. Today was pizza night.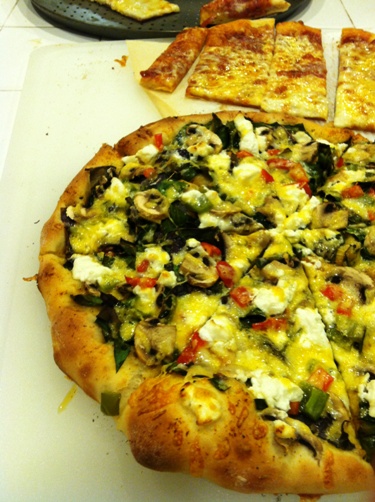 It's amazing. With a little flour you can make almost anything. Tonight was pizza night. FishBoy15 made the dough while I was out running errands. We switched to my regular dough recipe. It was a welcome change from the 5 Minute Artisan Dough.
The littles helped me top the pizza. Most of them were standard pepperoni. I got fancy with my own. If I had to eat pepperoni pizza every week, we'd never eat pizza. It's not my favorite.
Instead, I topped mine with olive oil, Jamie's Spice Mix (cookbook), chopped uncooked greens, sliced mushrooms, diced peppers (from the freezer), goat cheese (from the freezer), cheddar and jack. It was amazingly good!
In other news, we had the last of the Goat Cheese tart and the last Raspberry Baked Oatmeal for breakfast.
Lunch was leftover soup. The children ate it with gusto. Not because they loved it, but because they had requested crepes for breakfast. I said yes — if they ate the soup with a good attitude. So there we are.
You know what we're having for breakfast.
Day 25 Menus

Breakfast: Raspberry Baked Oatmeal, Leftover Tart/Quiche
Lunch: Leftover Soup, Crackers
Dinner: Pizza
How did YOUR day go?
This post is part of a month-long Pantry Challenge series. You can read more about my goals for the challenge here.