This is Day 24 of my month-long Pantry Challenge series  where we're eating down the pantry (and freezer and fridge) to use up what we have, rotate stock, and save some cash. Today I made homemade almond butter.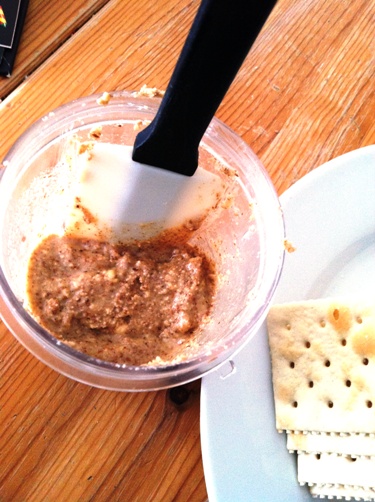 Due to a family peanut allergy, we've not bought peanut butter in about two and a half years. Peanuts now look like poison to me. Typically I buy sunflower butter since until very recently, we thought we needed to avoid all nuts. We don't. So, almond butter is back on the table.
Now that the cupboard grows bare — and we are out of sunbutter — I made my own almond butter. I don't think it is cost effective on a long term basis, but grinding up a handful of almonds worked in a pinch. The kids didn't "love" it. Sunflower butter is often sweetened, so they are used to a sweeter flavor. But, like I said… in a pinch.
Here's how we ate on Day 24:
Breakfast
The kids had pancakes. I made a goat cheese and leek tart. I pulled a log of goat cheese from the freezer earlier in the week, so I'm on the clock to use it up. Not many of my people will eat quiche/tarts of this variety, so I have to take my opportunities when I can.
Lunch
Lunch was a hodge podge of leftovers and almond butter crackers. I've got some sick kids. Three woke up under the weather today, so no one really had a hearty appetite.
Dinner
For supper I made soup from all kinds of freezer randomness: ratatouille, an itty bit of taco meat, garbanzo beans, and some roasted  vegetable puree. We have leftovers, so hopefully folks will be happy with soup at lunch tomorrow.
I added two loaves of artisan bread, a green salad, goat cheese tart, cheese curds, and grilled sausages from the freezer to the mix. I don't think anyone went hungry.
In other news, I've been planning my freezer cooking for next month as well as looking through the grocery ads. Ralphs (Kroger) has some AWESOME sales going until Tuesday. So,  I will most likely be stocking up on some of those items. I am still strategizing. Certainly we have the money, but I don't want to blow the progress we've made with the challenge.
But, the challenge is about being a good steward. Purposely missing some killer stock up sales on things we normally use wouldn't be all that wise. So, I'm plotting right now how to go about it.
Day 24 Menus

Breakfast: Pancakes, Goat Cheese and Leek Tart
Lunch: Leftovers, Almond Butter Crackers
Dinner: Soup, Bread, Cheese, Salad, Sausage, Tart
One week left!
Are you still with me?
This post is part of a month-long Pantry Challenge series. You can read more about my goals for the challenge here.