This is Day 22 of my month-long Pantry Challenge series  where we're eating down the pantry (and freezer and fridge) to use up what we have, rotate stock, and save some cash. Today went by in a flash.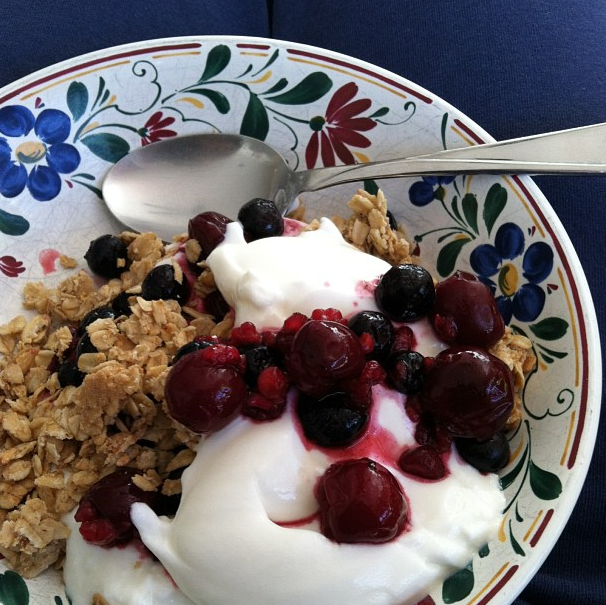 I don't know why, but the day went by in a flash. This Pantry Challenge update will be quick as well. Today was a day for running around. Two kids had science class and were gone all day, so we made sure to get up and at 'em pretty early.
I laid out a Breakfast Bar first thing and then headed upstairs to get ready. Choices included: granola, yogurt, applesauce, oatmeal, berries from the freezer, oranges and cranberry bread. We're in a lovely stage where everyone can serve himself and/or help the littler ones. Moms of littles, take heart!
I loved my Berry Granola Parfait. So, so good.
For lunch, we had a combination of snacky lunch/leftovers.
Dinnertime featured a pizza for the kids — easy to do with that 5-Minute Artisan dough in the fridge.
Hubs and I went out for date night. We tried a new place that had "Man Candy" on the menu. It's sweet and spicy bacon. We bought an order to bring home to the kids. It met with mixed reviews. I'm contemplating doing some recipe testing. Stay tuned.
See? That day went by in a flash.
Day 22 Menus

Breakfast: Breakfast Bar
Lunch: Leftovers/Snacky Lunch
Dinner: Pizza for kids/Date night for parents
How did Day 22 go for YOU?
This post is part of a month-long Pantry Challenge series. You can read more about my goals for the challenge here.