This is Day 20 of my month-long Pantry Challenge series  where we're eating down the pantry (and freezer and fridge) to use up what we have, rotate stock, and save some cash. Today was a baking day.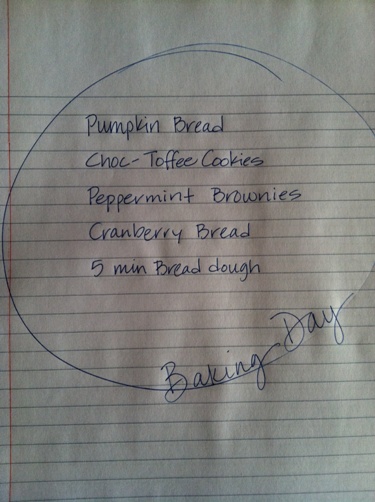 Today actually felt like a vacation. Hubs has worked six days a week since the start of the year. This weekend is his first weekend in awhile. So, we've all shifted into vacation mode: sleeping late, wanting to eat out, etc.
In my efforts to curb the desires for outside fun food, I spent some time baking. I had hopes that I could knock out my list in two hours or less. I was pretty thrilled to do it in 90 minutes of active time. Contrary to how I normally do it, I left the longest baking item for the end of the baking time. This worked so much better because I could leave the kitchen for the hour while the breads baked. I didn't need to babysit them or twiddle my thumbs while waiting for something to finish.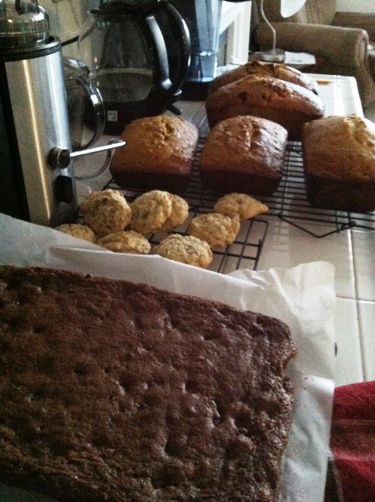 I was able to make the following:
24 Chocolate-Toffee Cookies (I omitted the melted chocolate to stretch the chips I had)
5 loaves of quick bread (cranberry and pumpkin)
a double batch of brownies
a double batch of artisan bread dough
This should make for easier snacking throughout the week, especially now that the crackers, chips, and other fun food have dwindled.
As for the actual eating? Well, it went down this way:
Breakfast
In light of our vacation mode, I spent some eating out money on baguettes from the French bakery. Petit dejeuner is one of our favorite breakfasts. There's something so very lovely about dipping bread spread with cold butter into a hot cup of cafe au lait. Yum!
Sorry, no photo, since I ate mine as we were rushing out the door for church.
Lunch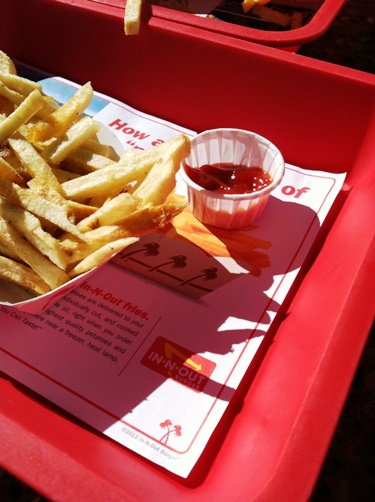 It was a beautiful day again today. I had no desire to go home for lunch, but we failed to pack a picnic, so we compromised (sort of) and ate In-N-Out burgers al fresco on their patio. Not quite the same as a picnic on the beach, but still out in the fresh air. Our bill was $25, so I didn't feel too bad.
Dinner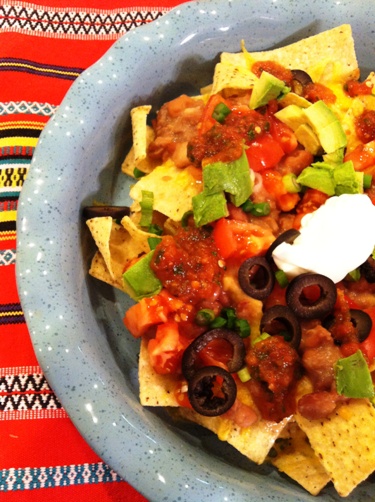 I cooked a huge pot of black beans yesterday. We had chips and cheese and an amazing amount of toppings for nachos, so I made a Nacho Bar. Everyone ate his fill. And then some.
It was just as well that our meal plan for the day got shifted. Someone took out the bowl of shrimp I had thawed out of the refrigerator and forgot to return it. I had to dump the shrimp I had planned for tonight's dinner. You win some, you lose some.
Day 20 Menus

Breakfast: Petit Dejeuner
Lunch: In-N-Out Burger
Dinner: DIY Nachos
All in all, it was a pretty good day.
How was your Day 20?
This post is part of a month-long Pantry Challenge series. You can read more about my goals for the challenge here.