This is Day 2 of my month-long Pantry Challenge series  where we're eating down the pantry (and freezer and fridge) to use up what we have, rotate stock, and save some cash.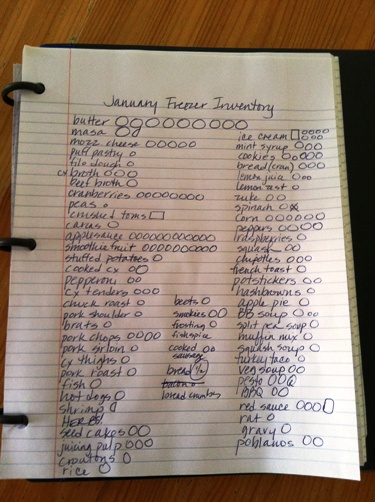 Day 2 of our month-long Pantry Challenge found me making an inventory of the freezers. I have two: a deep freeze and the  freezer section of our side-by-side refrigerator. I must confess I had neglected both.
During the summertime pantry challenge I came up with the brilliant-if-I-do-say-so-myself idea of making the kitchen freezer serve as a holding tank for the week's meals. Since food is preserved better in the deep freeze which isn't opened as frequently, it's best to keep long-term items in the deep freeze and short-term items in the fridge freezer.
Of course, I've let this go in the months since July, and the kitchen freezer became this catch-all for little bits of leftovers that I didn't want to waste.
I took a full inventory of both and figured out that we are (mostly) set for the month — as long as I'm creative.
Honestly? There were little bitty items (ie frozen corn, squash puree, and peas) that had been there through the past TWO pantry challenges. I decided that we needed to use those things up first. This week! I culled several random bag o' bits into one bag for soup tomorrow and another random bag of pizza toppings. Shhh… it'll be our little secret.
I also did some freezer organization. You'll recall that I installed black bins last winter. The green baskets disappeared. I have no idea what happened to them.
Anyway, I sorted it all and now have all TEN jars of Crockpot Applesauce in one location! I also have all nine pounds of butter stored in the same area. As well as the eight pounds of cranberries.
Ha! I don't plan to use all those items this month. I'll focus on the random bits instead of the organized stockpile. But at least I know what we have.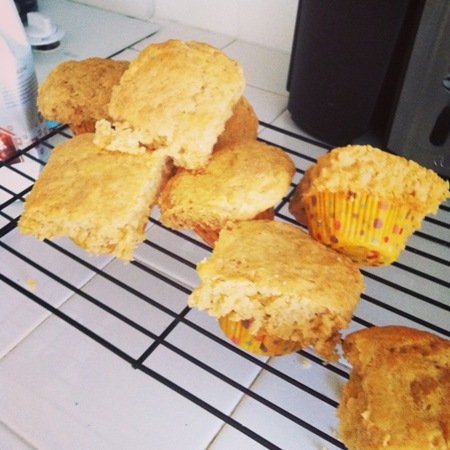 Breakfast
The pantry challenge always keeps me on my toes and I find that I pay more attention to my meal plan during these months. Too bad those 30 days don't create a new habit!
Regardless, I pulled a muffin mix and a bag of squash puree out of the freezer last night for muffins this morning.
I told the kids it was pumpkin. For some reason pumpkin sounds better than squash. I seasoned the batter with cinnamon and sprinkled demerara sugar over the tops. They were a hit! I will probably make them again and post the recipe later this month.
We also had apple slices, hot cocoa/coffee with our muffins.
Lunch
As I mentioned yesterday, we were rich in leftovers. The kids were less than thrilled when I reheated a previous night's soup and served it to them today for lunch. They were desiring something new. Too bad. I ate my leftover salad from Rubio's as well as a handful of leftover homemade egg rolls.
Waste not, want not, right?
When they were done with soup, they had their choice of leftover ham and potatoes from yesterday or eggrolls and stuffed mushrooms from the night before. They did not wrinkle their noses, however at the leftover cheesecake from New Year's Day.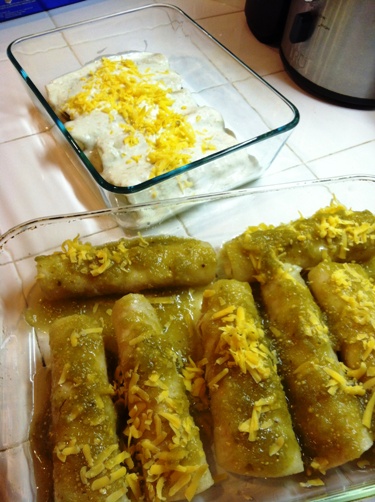 Dinner
Dinner was a surprise and a half. I knew I had corn tortillas in the fridge as well as some cheese. In the freeer I had a random bag of extra filling from Creamy Chicken Enchiladas (cookbook recipe) that I had made in a previous freezer cooking session. In my inventory I also found several bags of roasted poblanos.
Enchiladas were on the menu; it came together better than I expected. I had a jar of Herdez Salsa Verde (my fave!) in the pantry hiding behind another brand of salsa that I am loathe to use and sour cream in the fridge. I was able to make a small pan of Creamy Chicken Enchiladas and a smaller pan of Poblano Chile Enchiladas. Open up a can of black beans, steam some rice in the rice cooker, and we're set!
Hubby was stunned when I said it was a Pantry Challenge night. He said, something like, "But that's supposed to be eww…."
Not this year, baby.
In light of one of my new goals for the year, I had one of my sons, Mr. 8, help me out. He grated cheese, started the rice cooker, and rinsed the beans. He was antsy to get back outside and play, but I figured I miss out on stuff to make dinner, it's okay if he misses one night a week, too. He did great and we're on the road to children with kitchen independence.
I had originally thought to make a Lemon Meringue Pie with the lemons my dad brought us at Christmas, but I found a Slab Apple Pie in the deep freeze. Yes, really! I figured it was better to use up what was already prepared first, so we had apple, not lemon, pie for dessert.
Day 2 Menus

Breakfast: Cinnamon Butternut Squash Muffins, Apple Slices, Malted Hot Cocoa/Coffee

Lunch: Leftovers

Dinner: Creamy Chicken Enchiladas, Poblano Chile Enchiladas, Brown Rice, Black Beans, Salad, Slab Apple Pie
Day 2 ended pretty well. I'm doing some breakfast freezer cooking tomorrow and was holding my breath. My tallies showed that I might not have enough sugar. But, no, I found enough in the cupboard tonight. Hopefully, everything else will hold out as well.
How did Day 2 go for you?
This post is part of a month-long Pantry Challenge series. You can read more about my goals for the challenge here.