This is Day 19 of my month-long Pantry Challenge series  where we're eating down the pantry (and freezer and fridge) to use up what we have, rotate stock, and save some cash. Today I even did something wild and crazy; I made poutine.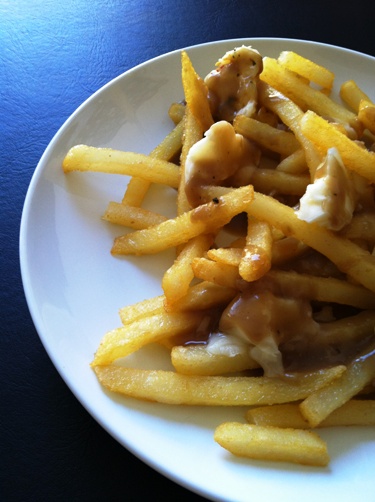 Today was a beautiful, sunny, warm day in San Diego. I say this not to brag as my sister claims, but to express my extreme gratitude over fair weather. I am a wimp. I do better with warmth and sunshine.
It was also the start of a three-day weekend for us, and I am so thrilled that there are still two more days left. Here's how the eating went down today:
Breakfast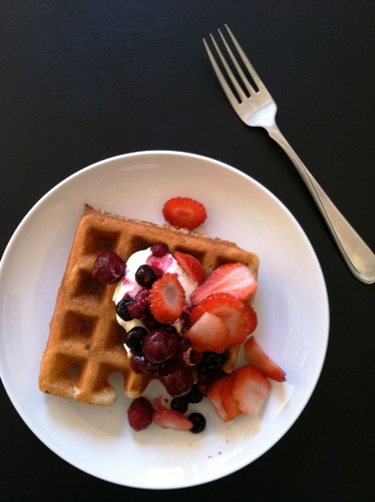 For breakfast we had berries, cream, and Lemon-and-Honey Flax Waffles. The waffle recipe is in my cookbook. Hubs made the waffles while I prepped the berries and whipped cream. he mixed the waffles less than I normally do, creating a very light waffle. I was quite impressed. I told him he's now in charge of waffle mixing. He can thank Alton Brown for his new assignment.
It was such a yummy breakfast.
Lunch
Today was also the day when hockey was put back on the table. After months of a player-owner dispute, the season finally opened. While it's not a huge deal to me, it is to certain people in the family. So, in honor of Celebration Saturday, I hunted down "traditional hockey food".
Based on my quizzing folks on both Life as MOM and Good Cheap Eats facebook pages, the consensus was that poutine was as traditional as it gets. Forget that I'd never eaten poutine, I was on a hunt to make it. I read Shaina's recipe multiple times before proceeding on my quest.
That meant tracking down cheese curds in San Diego.
An internet search, an email, and two phone calls later, I found out that Spring Hill Jersey Cheese sells it at San Diego farmer's markets. So, I headed out with the three littles this morning for the farmer's market. They had different expectations than I did. Namely, they associate the market with kettle corn and crepes. So, I bought them a crepe to share and a bag of kettle corn to take home for the hockey fans.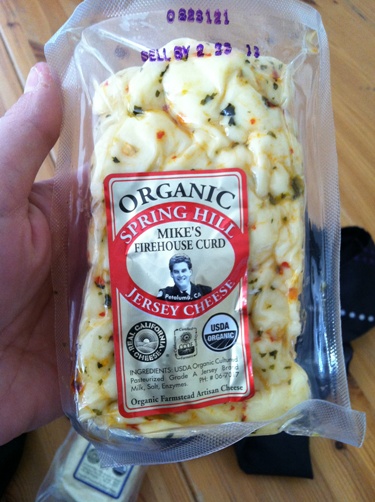 We also grabbed our cheese curds (both plain and firehouse) and headed home. While traditional poutine would have had plain cheese curds, I also bought a package of their Firehouse curd. Both varieties tasted like a creamy Mozzarella or Monterey Jack, with the latter having a definite kick. I loved the Firehouse flavor. Yum!
The curds, however, are not cheap. They are certainly a quality artisanal product, but not a regular purchase that I see in my future.
Unfortunately, the cheese did not squeak as folks had said it would. Internet research told me that only the freshest curds squeak. Who knew?
I whipped up a gravy, similar to Shaina's, only I used a different stout, a Russian variety that my sister had brought last week. I should have stuck to traditional brown gravy because I didn't like the after taste of "Old Rasputin".
For lunch I served poutine, but I was the only one to eat it all together. Hubs and the kids tried the curds and ate the fries, but I had no takers. Seriously?
Thankfully for them I had also grilled some sausages to go with lunch so they didn't starve.
Dinner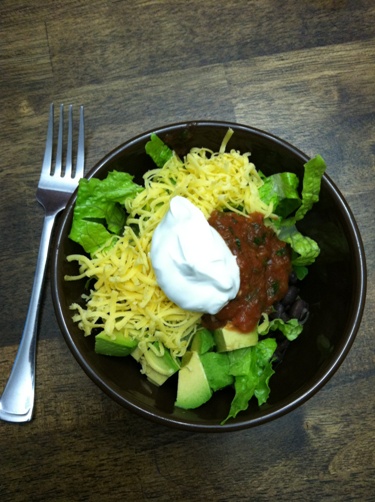 For dinner we had rice bowls with black beans that cooked in the slow cooker all day, rice, and a Pork Fajita mixture along with traditional toppings. FishChick4 ate three bowls full, so I guess it was a winner.
FishBoy10 baked us a cake from a mix I had in the pantry and we made a chocolate glaze to go over.
And that's all she wrote.
Day 19 Menus

Breakfast: Waffles, Berries, Whipped Cream
Lunch: Poutine, grilled sausages
Dinner: Rice Bowls, Pork Fajitas
 How did the day go for you?
This post is part of a month-long Pantry Challenge series. You can read more about my goals for the challenge here.