This is Day 18 of my month-long Pantry Challenge series  where we're eating down the pantry (and freezer and fridge) to use up what we have, rotate stock, and save some cash. Tonight we diverged from the Challenge for a Panda Feast.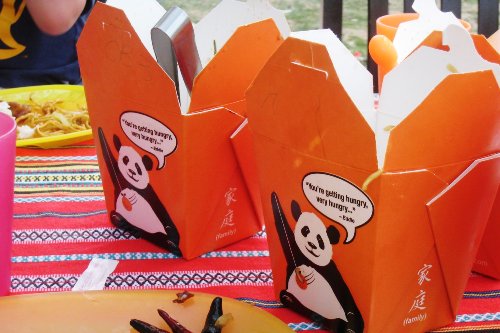 Today went by in a flash. I'm typing this quickly so I can enjoy an evening "off" of the Pantry Challenge. You see, hubs is on a Panda Express run. Just one of those days…. (That's an old picture.)
I had planned on pizza. But as we all know, I was out of flour. So, after school, work, and chores were done, I took whoever wanted to go on a Walmart adventure.
Guess what?! Four kids wanted to go. And because we were already out, I decided to hit Sprouts, too, to fill out the produce holes that the box delivery on Wednesday didn't fill.
When you take four kids grocery shopping to two different stores, it will take longer than you anticipate. So, not enough time to go and make pizza dough. And of course, I forgot to use a free product coupon and so I have to go back anyway. Sigh.
No worries. We'll just have the beans and rice that was supposed to be tomorrow's lunch tonight. Except….
that I was relying on dried beans and hadn't soaked or cooked them yet. It's starting to sound like If You Give a Mouse a Cookie, isn't it? So, I'm sitting there wondering what to fix or if there was a "fun restaurant" that we could take the fam to. Hubs made the call to go get a Panda Feast. So, there we are.
And I'm good with it. It's Day 18, and our family has only eaten not-homemade twice this month. That works well in our "dining budget" as well as our grocery budget. While FishChick4 helped me sort beans for tomorrow, hubs is taking care of dinner. Yeah, FishPapa.
Here's the rest of the day: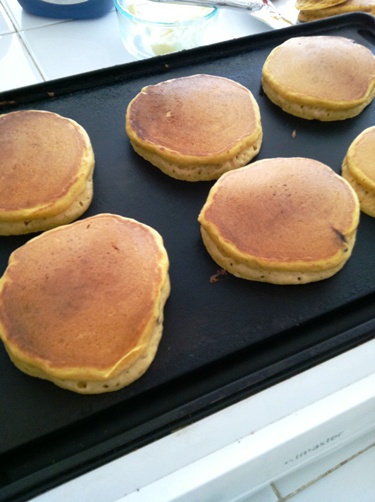 Breakfast
I had a pancake mix that I made during this month's freezer cooking as well as butternut squash from yesterday's project. I mixed them together with some spices and a few chocolate chips. It would have been great, but we were running low on milk so I decided to use the Coconut Milk Beverage that was in the fridge. Gave the pancakes an odd texture.
The kids ate them without complaining, but I know they didn't love them. Too many weird things at once.
Lunch
For lunch I dug out the last loaf of sandwich bread from the freezer and the last two cans of tuna. I used the last of the mayo to make tuna salad. There was no cheddar, but surprisingly my kids were good with jack. Lunch was a choice of tuna sandwiches, tuna melts, and grilled cheese. Oranges on the side.
Dinner
Hubby provided the aforementioned Chinese food. FishBoy12 made lemonade. We ate well. And are ready to continue with the pantry challenge.
Day 18 Menus

Breakfast: Butternut Squash Pancakes, Milk
Lunch: Tuna Salad for sandwiches, oranges
Afternoon snack: Saltines
Dinner: Chinese food takeout, Lemonade
This post is part of a month-long Pantry Challenge series. You can read more about my goals for the challenge here.