This is Day 17 of my month-long Pantry Challenge series  where we're eating down the pantry (and freezer and fridge) to use up what we have, rotate stock, and save some cash. Today I tackled the hoard of butternut squash.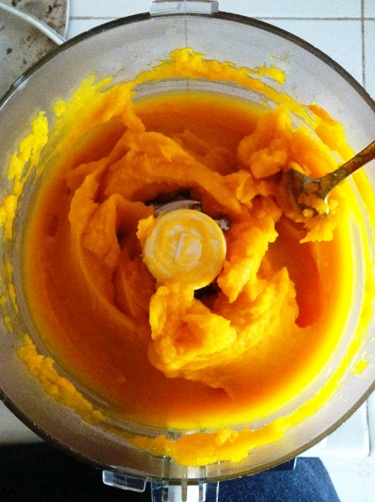 I spent a good two to three hours in the kitchen today. Man, does a pantry challenge take some time. I guess we're seeing how convenient the rest of life is! May I never complain again.
This morning I got a workout on Kitchen Patrol. In those first two hours I started lunch (pork chops and sauerkraut) in the slow cooker, dinner (sausage and barley vegetable soup) in the other slow cooker, made a homemade juice and cleaned out the juicer, started a vegetable stock going on the stove with the pulp from the juice, and started roasting the butternut squash in the oven. Oh and I made some eggs.
However that time investment did pay off throughout the day. I was able to visit with a friend for over two hours this afternoon without worrying about fixing dinner. It was already prepared. I've also got butternut puree for tomorrow's pancakes and 6 cups of vegetable stock to use in some experiment later this week. Booyah!
So, here's how day 17 went for us:

Breakfast
The morning meal was mostly fend-for-yourself. Those who wanted oatmeal made it themselves as did those who wanted eggs. I made juice for the masses: a concoction of broccoli stalks, apples, orange, and ginger. It was amazingly sweet and not very much like broccoli.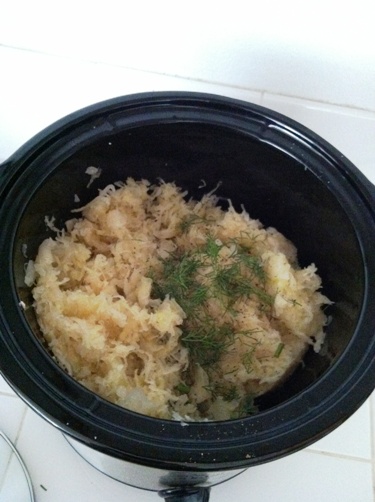 Lunch
Lunch was pork chops and sauerkraut, one of my kids' favorite meals. I normally make this with country pork strips. The last couple times I've used other cuts of pork, but not liked it as well. The kids don't seem to notice. But, one can of kraut is not enough. Who knew?
For the record, hubs does not care for this very favorite meal of my childhood. At first neither did my children. Slowly, I've won them over. We enjoy it at lunch when he's at work.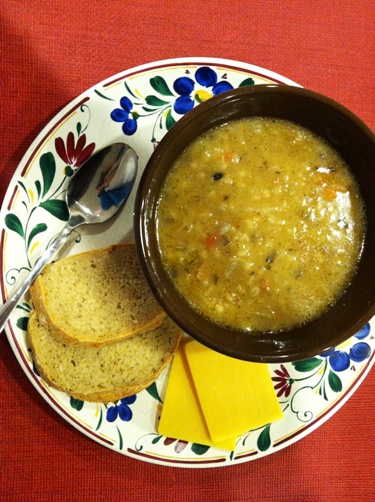 Dinner
For dinner we had a twist on Thursday Night Soup. I took some Swedish Meatball gravy and chicken broth from the freezer. Those went into the crockpot with chopped veg, barley, wild rice, and turkey sausage. I let it cook all day. It was great!
I served the soup with the very last of the 5 minute bread dough and some sliced cheddar.
The day was easy and hard at the same time. I had to invest on the front end, but the evening when I was tired went quite smoothly. Yeah for crockpots!
Day 17 Menus

Breakfast: homemade juice, Instant Oatmeal, eggs
Lunch: Sauerkraut and Pork, Boiled Potatoes
Afternoon snack: Chocolate Almond Biscotti
Dinner: Vegetable Barley Soup
How did Day 17 go for you?
This post is part of a month-long Pantry Challenge series. You can read more about my goals for the challenge here.