This is Day 16 of my month-long Pantry Challenge series  where we're eating down the pantry (and freezer and fridge) to use up what we have, rotate stock, and save some cash.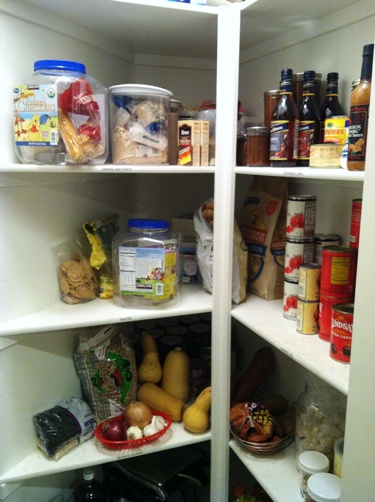 A couple days ago, I posted a picture of my baking cupboard. I think I gave a few people heart palpitations. If that was all the food we had in the house, I think I would have a heart attack, too. I'm too much of a stockpiler for that.
No, it's just the baking cupboard that's taken a hit. Aside from some baking mixes in the freezer and half a batch of five minute dough in the fridge, my baking moments are limited until I get more flour.
The pantry, on the other hand, is doing just fine. We've got plenty of beans, pickles, and squash — as well as rice, potatoes, and oats. You can't see them, but there are also 9 cans of pumpkin still in the pantry as well as a myriad of other canned and dry goods. So, we're good.
Much to my chagrin, there is still a fair amount of randomness in the freezer, though the proteins are dwindling. I may end up stocking up on chicken before the month is out since there are sales this week. But, we're still holding strong.
Here's how Day 16, my official halfway point, went: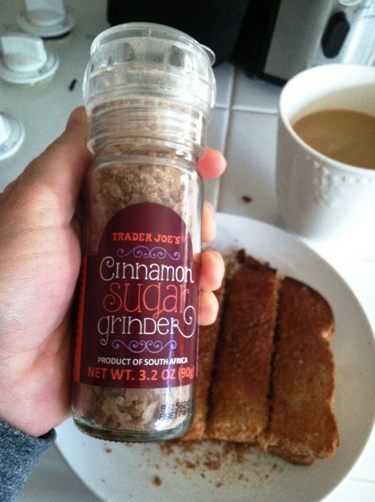 Breakfast
I made a comfort food breakfast this morning: Cinnamon Finger Toast with my coffee. YUM! I gave Hubs this Cinnamon Sugar Grinder in his stocking. I think the kids and I have used it more than he has. It works great.
The kids also had Homemade Instant Oatmeal in addition to Cinnamon Toast.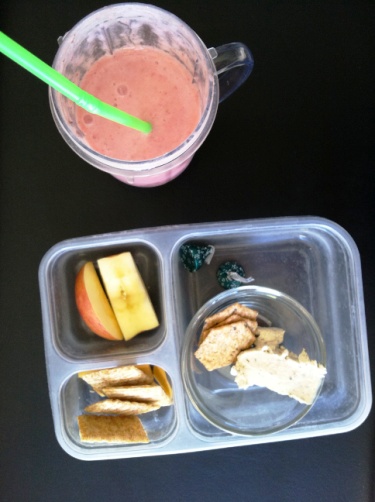 Lunch
For lunch I had leftover Summer Roll filling as a salad. But, for the kids I made them lunchables. Sort of.
They love these divided containers. Thanks to our weekly produce delivery, we rarely have room in the fridge to pack them in advance for lunches these days. So, it was a fun surprise for the younger kids. The older two were disappointed that I didn't make them lunchables, too. (Though they wouldn't tell you that.)
I included cheddar and spready cheeses, two kinds of crackers, apple slices, and 2 peppermint kisses. I also made everyone a berry-pineapple-coconut smoothie. They were thrilled.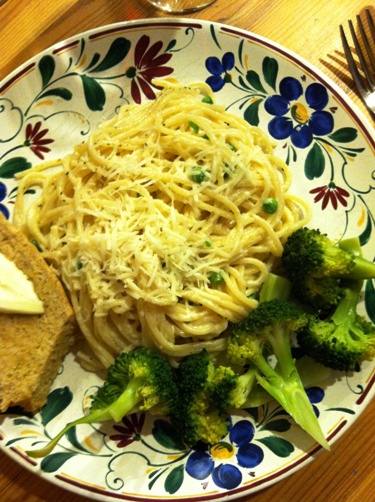 Dinner
Dinnertime photography does not do the meals justice. Sorry. Just keeping it real. (I also lost my camera which is not helping matters. One can only post iphone photos for so long.)
Tonight's dinner was fabulous: Spaghetti Alfredo with Peas, Steamed Broccoli, and 5-Minute Artisan Bread. We all stuffed ourselves. So good!
Day 16 Menus

Breakfast: Cinnamon Finger Toast, Instant Oatmeal
Lunch: Snacky Lunch, Smoothies, Leftovers for Mom
Dinner: Spaghetti Alfredo with Peas, Steamed Broccoli, and 5-Minute Artisan Bread
We're halfway done with the challenge. We've bought some necessities along the way, but at the moment we're on target to be several hundred dollars under budget. I need to focus the next couple days on the stuff in the freezer.
How's it feel to be halfway?
This post is part of a month-long Pantry Challenge series. You can read more about my goals for the challenge here.