This is Day 14 of my month-long Pantry Challenge series  where we're eating down the pantry (and freezer and fridge) to use up what we have, rotate stock, and save some cash.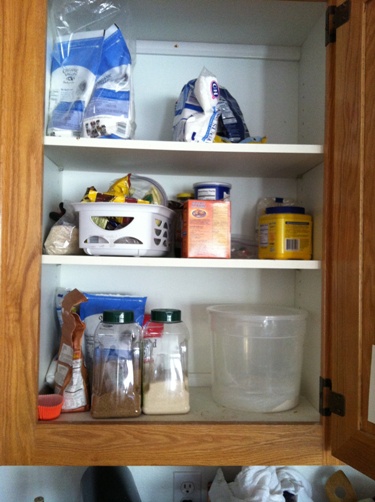 My baking cupboard stands testimony to the fact that most of our baked goods are homebaked. Today I used up the last of the flour to make another batch of Artisan Bread dough. The sugar is dwindling. The cocoa is gone.
We're eating well — and doing it mostly at home.
Breakfast
I love breakfast bars — and I love freezer cooking for breakfast. Together they make mornings super easy. This morning I laid out the last loaf of Pumpkin Bread, a bag of granola, oranges, and bread for toast. Everyone could have what he wanted. This is what I chose: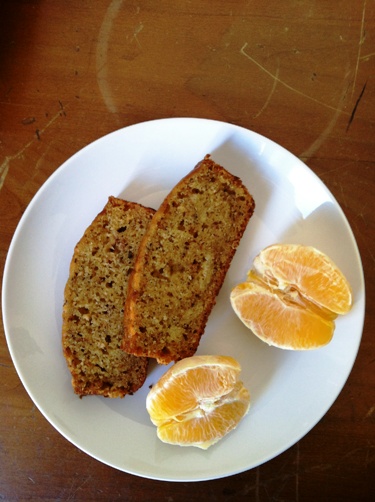 Lunch
For the mid-day meal, we made easy grilled cheese on the panini press. Everyone prefers buttered-griddle-cooked grilled cheese, but this way is easier with less cleanup. I like that.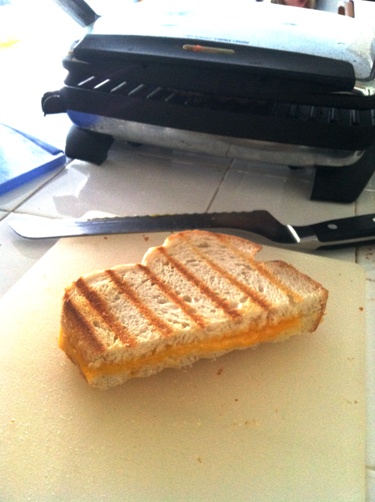 Dinner
For dinner we had one of my favorite "lighter" meals: Summer Rolls. When I cleaned out the pantry last week, I found several packets of rice papers, so that was a fun food to mix into the Pantry Challenge. I had chicken tenders in the freezer as well as nappa cabbage, green onion, carrots, and cilantro in the fridge. Also mixed in a can of water chestnuts from the pantry. Yum!
The baking cupboard is obviously growing bare. There are still quite a few items in the deep freeze and in the pantry. Some randomness, of course, like 8 cans of pumpkin or 9 pounds of butter that we're obviously not going to use up.
But, I need to deal with the growing pile of butternut squash. I think I will do that after Wednesday's produce delivery in case they have more!
Day 14 Menus

Breakfast: Spiced Pumpkin Bread, Cranberry-Orange Granola
Lunch: Grilled Cheese Sandwiches
Dinner: Summer Rolls
How's your pantry challenge going?
This post is part of a month-long Pantry Challenge series. You can read more about my goals for the challenge here.