This is Day 13 of my month-long Pantry Challenge series  where we're eating down the pantry (and freezer and fridge) to use up what we have, rotate stock, and save some cash. I even ground my own meat.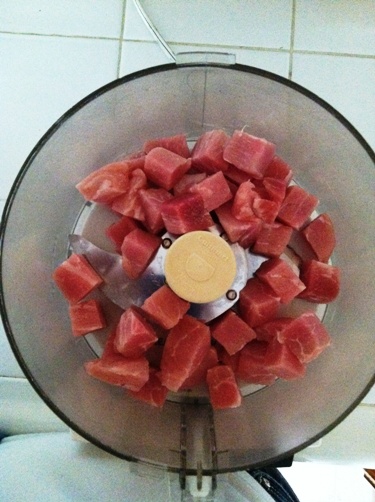 Day 13 already? I must say, one of the things that I'm gleaning from the Pantry Challenge is that when I spend time working in the kitchen, producing good meals, I feel better about the challenge as opposed to those haphazard, fend-for-yourself days. I'm learning that a little effort goes a long way.
Even when a little effort takes more time than many alternatives. Today I ground my own meat for dinner! Yes, really!
But, first here's the rundown on the day:
Breakfast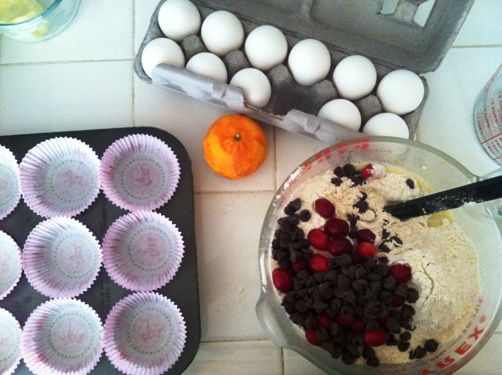 Early this morning my sister drove down from LA to visit. So, we had a big breakfast when she got here: Chocolate Chip-Cranberry-Orange Muffins, Ginger-Almond French Toast (cookbook), scrambled eggs and bacon. All was super yummy.
The bacon was particularly good. I've been buying nitrate-/nitrite-free bacon, the Oscar Mayer kind. We really notice a flavor difference. Going to have to look for sales on that!
Chocolate Chip-Cranberry-Orange Muffins

If you'd like to recreate the muffins, just make a batch of Mix and Match Muffins and stir in 1/2 cup chocolate chips, the zest of one small orange, 1 cup cranberries, and a bit of vanilla extract. They were pretty fab muffins.
Costco
Jamie and I also made a quick trip to Costco where I restrained myself extremely well. I just had to prevent myself from going down many aisles. I stuck to my list and that was good. Spent a little over $50 on these staples that will last us well through the end of the month and some into February.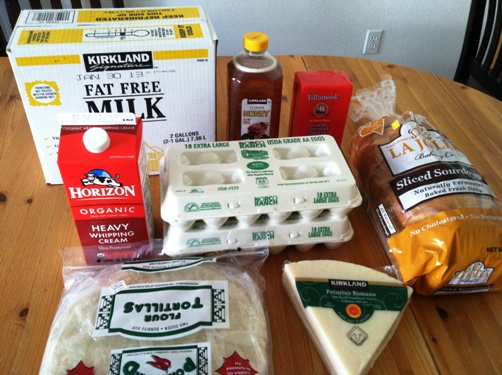 It seems like a lot of cash, but there's also a lot of food here — at rock bottom prices.
2 dozen tortillas
2 gallons milk
3 dozen eggs
1/2 gallon cream
2 pound loaf of really good sourdough bread
2.5 pounds cheddar cheese
ginormous container of honey
huge chunk of romano cheese
Lunch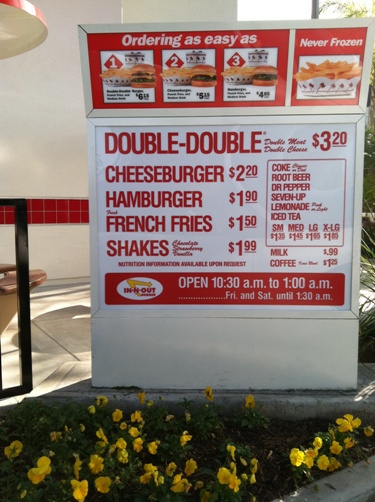 For a late lunch, we had a family treat of In-N-Out Burger. Since we split fries and don't get drinks, we easily fed everyone, including my sister for $30.
Dinner
Once home, I got started on dinner. I knew we had pork sirloin, jumbo pasta shells, and cheese. I developed a recipe in my cookbook for pork-stuffed shells. But, that calls for ground pork. I ended up grinding the small roast I had myself! Yes, really.
How's that for a pantry challenge?
The pork sirloin roast, ground in the food processor worked great. It wasn't yet completely thawed, so I cut it in chunks. The slightly frozen texture helped it not get gummy on the blade. I didn't grind it super fine, but good enough for the Stuffed Shells.
The recipe, if you're interested, is on page 167-68 of my book. It is fabulous with mushrooms, as directed in the book. But, we didn't have mushrooms, so I subbed in bell peppers instead. Still very good. I think hubby ate half a pan himself.
Dinner was great: Stuffed Shells, Steamed Broccoli, Green Salad, and two loaves of 5-Minute Artisan Bread.
That bread was a life-saver during last year's January challenge. Making it tonight reminded me how tasty it can be. I am running out of flour, but that may be a good thing to buy later this week to keep us in bread.
Last year I crunched the numbers and concluded that I could make the bread for $0.25/loaf. This year with the higher costs of groceries in general and buying a slighter better quality flour, my costs have risen a bit. I think I can still make it for about $0.40/loaf. Still a great bargain. (Our family eats about two of the small loaves as a side dish at dinner.) Time to explore some more recipes in that book.
Day 13 Menus

Breakfast: Chocolate Chip-Cranberry-Orange Muffins, Ginger-Almond French Toast (cookbook), scrambled eggs and bacon
Lunch: In-N-Out Burger
Dinner: Stuffed Shells, Steamed Broccoli, Green Salad, and two loaves of 5-Minute Artisan Bread.
So, that's Day 13 for me. I feel a little more energized. I think I need to spend a little creative time in the kitchen each day to help me keep the momentum going.
How was your day 13?
If you're blogging your adventure, remember that there will be a link up tomorrow at 8 am PST.
This post is part of a month-long Pantry Challenge series. You can read more about my goals for the challenge here.