This is Day 12 of my month-long Pantry Challenge series  where we're eating down the pantry (and freezer and fridge) to use up what we have, rotate stock, and save some cash. I didn't want to cook tonight, but I did.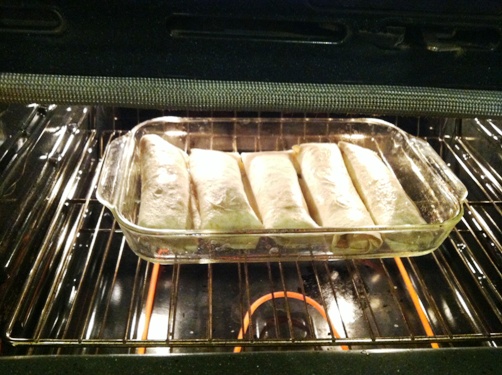 Last night I mentioned that I thought we might go out to dinner tonight. That was the plan this morning, but by the time hubs came home from work, the kids were busy playing with friends and no one wanted to head out to the great outdoors away from the warmer indoors that is home.
Hubs offered to go pick something up, but that didn't seem in keeping with that "intentional take-out" that I've been preaching about.
Even though I didn't want to, I went to the kitchen. As the meal plan would have it, I did have something to make: chicken taquitos. However, I hadn't thawed the chicken since I thought we were going out. I didn't want to nuke it and make it tough, since it was thin chicken cutlets that we had grilled last month and then frozen. So I let it sit on the counter while I softened the tortillas.
I got the brain storm to make oven chimichangas with canned beans, chicken, and the little bits of grated cheese from quesadilla night. Those baked while I hacked away at the half-frozen chicken. FishBoy10 was supposed to help me with dinner tonight, but since I was doing something a little unsafe, I excused him, lest I set a bad example.
For the record, I think I was safe, but I wouldn't necessarily want my kids to mimic my actions.
I ended up with five burritos to bake into chimichangas, 20 chicken taquitos, and 3 cheese taquitos. Yes, cheese.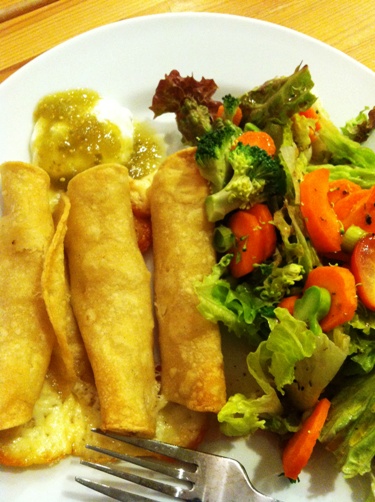 I love jack cheese and corn tortillas, so I made the unorthodox cheese taquito. Yes, the cheese oozes out and browns on the tray, but that's part of it's charm. Love it.
I also made a big salad and homemade dressing to go with and rifled through the condiments to find sour cream and two salsas: green and spicy chile.
It was a fabulous dinner, despite the fact that I hadn't wanted to cook it. That means we've eaten in for 12 straight days. Might be a record for us.
In other news, we had oatmeal for breakfast and rice/potstickers/leftover pizza for lunch. Nothing to write home about, really.
Day 12 Menus

Breakfast: Leftover Raspberry Baked Oatmeal, Homemade Instant Oatmeal Packets
Lunch: Leftover Pizza (three slices), Potstickers, Rice, Oranges
Dinner: Chicken Taquitos, Chimichangas, Salad
My sister comes tomorrow which promises to be fun and tasty since she loves food just like us. We're almost halfway done.
How are you doing with the Pantry Challenge?
This post is part of a month-long Pantry Challenge series. You can read more about my goals for the challenge here.