This is Day 10 of my month-long Pantry Challenge series  where we're eating down the pantry (and freezer and fridge) to use up what we have, rotate stock, and save some cash. Tonight was soup night.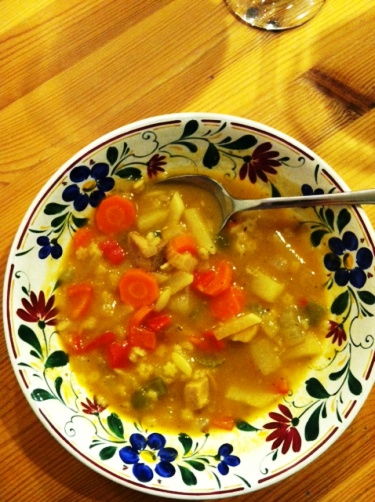 The older boys and hubs are watching a movie that I kinda want to go watch, so this will be a short and sweet update.
Today was cold and rainy in the morning. I slept later than the kids, trying to make up for yesterday. Breakfast ended up a fend-for-yourself affair. The littles had homemade instant oatmeal. The bigger ones had Vanilla Cranberry Bread. I had a mashed sweet potato. Yes, really.
We have lots of fresh fruit and veg again thanks to yesterday's produce box.
For lunch we had hot dogs and brats on homemade buns. I added a salad to mine while the kids had oranges.
In the afternoon, the two bigger boys each made a batch of soda bread. I cooked a big pot of soup, combining all kinds of randomness from the fridge, including a few smallish containers of squash soup as well as different broths. I added barley, orzo, star noodles, cooked chicken from the freezer, onion carrots, potatoes, celery, and turnips.
It was pretty good. I know this because the kids didn't complain too much.
In addition to bread and soup, I pulled out the spready cheese from the other day as well as saltines and butter. The later is my comfort food. Love saltines and butter.
Day 10 Menus

Breakfast: Breakfast Bar/Fend-for-yourself
Lunch: Hot Dogs and Brats
Dinner: Chicken and Barley Soup, Soda Bread, Saltines and Butter
So, that's the day. We ran out of milk, cream, and coffee today, so hubs bought some on the way home. I don't know how much that was, but I'll be giving a Grocery Geek report in a couple days.
We're one-third of the way through on the challenge. That's not too shabby, eh?
How are you doing?
This post is part of a month-long Pantry Challenge series. You can read more about my goals for the challenge here.