This is Day One of my month-long Pantry Challenge series  where we're eating down the pantry to use up what we have, rotate stock, and save some cash.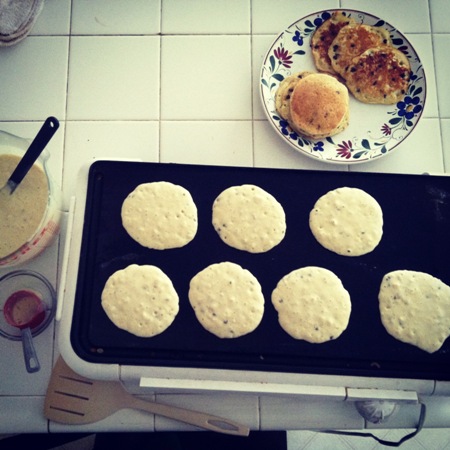 Today marked the first day of the year as well as the first day of our month-long Pantry Challenge. I read back through the archives…. I've done this same challenge in '10, '11, and '12, sometimes in July as well as in January. I guess we're getting expert at it. So, here's to the fourth annual January challenge.
Here's how Day 1 went down:
Breakfast
My children love pancakes over almost any other breakfast. It's the most requested morning meal. Who are we kidding? It's their favorite supper, too.
When FishBoy8 requested pancakes, I was happy to deliver. I jazzed them up by making Banana Chocolate Chip Pancakes. I didn't have a full 1/2 cup of mini chocolate chips, but it was close. Rather than open a fresh bag and watch my family sneak bites of it when my back was turned, I stuck to just using the partial bag that was open. No one knew that there weren't as many chocolate chips as last time.
Especially when they spread Nutella all over their flapjacks.
I don't have this particular pancake recipe posted. But, there is an Oatmeal Chocolate Chip Pancake recipe in my book. Or you can try Basic Pancakes or Multi Grain Blueberry Pancakes. Need tips on Pancake Night? That's an excellent option for the Pantry Challenge.
We also had two pineapples languishing on the countertop. Unfortunately, I had to cut away some overripe parts, but it was still enough for breakfast and snacking throughout the morning. (Not sure how to cut a pineapple? Go here.)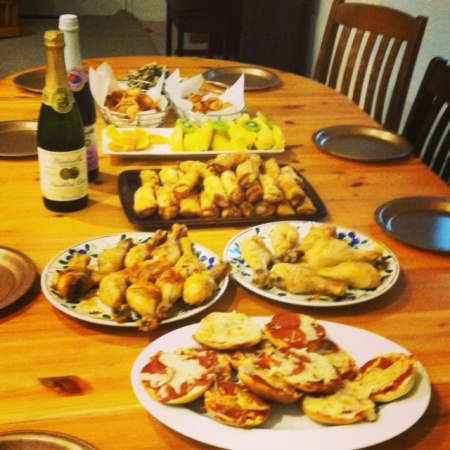 Lunch
Last night we had a huge cocktail party in house. Each of the boys chose one appetizer to prepare and he was in charge of making it, with help if necessary. The girls chose appetizers also, but they had more help than the boys. Their choices: Stuffed Mushrooms, Fried Beer-Battered Shrimp, Egg Rolls (rolled this way), Pizza Bagels, Fruit Platter, and Baked Chicken Legs.
It was a veritable feast! The kids had the leftovers for lunch while hubs and I went on a lunch date at Rubio's.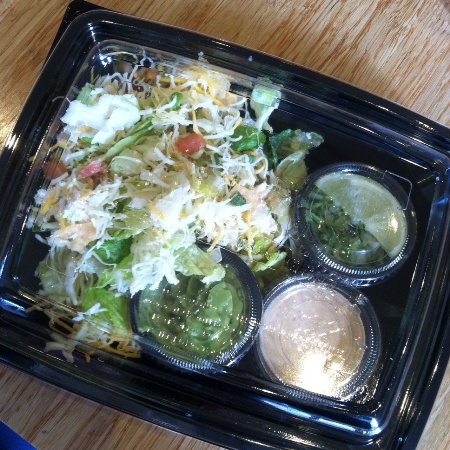 I ended up bringing home my Rubio's leftovers which was surprising. I ordered the Chopped Salad without chicken. The folks there have a hard time understanding that I might not want meat. They usually raise an eyebrow and ask if I want another kind of meat. I think they filled my bowl extra full since I went meatless. So, I guess I have lunch for tomorrow.
Leftovers is becoming a trend. Should I be worried?
Dinner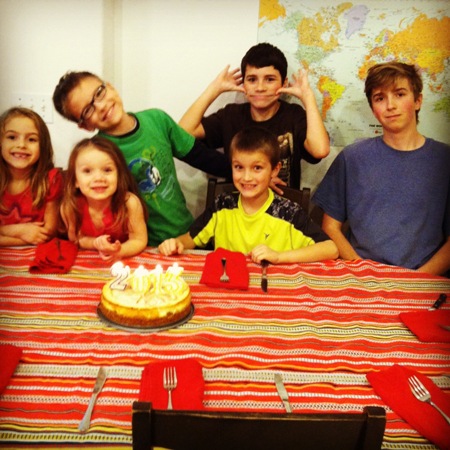 My dad bought a ham when he was here at Thanksgiving. I ran out of steam on that cooking day so I put it in the freezer for Christmas. But, on Christmas it didn't thaw at all. It was still rock solid when I needed to cook it, so it went back in the freezer until a couple days ago. Tonight was the night for ham.
It seems we have a sweetener shortage already. Honey that I needed for the ham was at a minimum. I scraped up about half what I needed from some crystallized vials I had received as a gift. (No, sitting the containers in warm water did not help much.) I ended up making half the batch of glaze.
Because this is the Pantry Challenge and I'm not running out to the store for 1/4 cup of honey.
I had planned on Tastiest Scalloped Potatoes, but the oven was already full, so I went with Potatoes Alfredo instead. Turns out I had to skimp on the half-and-half so I wouldn't have been able to make the scalloped potatoes anyway. I'm not going to the store for 1/4 cup of honey to find out I need a cup of half-and-half, too!
We also had  garlic rolls and a salad of baby greens, apples, almonds, and some pomegranates I'd been ignoring. I'm sorry, but there is NO easy way to get those arils out of there. I tried the spoon/hammer method and then went back to my trusty method.
I baked a Pretzel Berry Cheesecake early in December. It served as our Happy New Year Cake.
Day 1 Menus:

Breakfast: Banana Chocolate Chip Pancakes, Nutella, Fresh Pineapple Spears, Coffee, Milk, Hot Cocoa

Lunch: NYE Leftovers for the kids, Rubio's salads for the parents

Dinner: Ham, Potatoes Alfredo, Garlic Rolls, Salad, Pretzel Berry Cheesecake
So that's the day for us. I don't anticipate that they will all be this seemingly extravagant. We'll see….
How did Day 1 go for you?
This post is part of a month-long Pantry Challenge series. You can read more about my goals for the challenge here.
Grab the button and join me! I'll be posting daily about our family's pantry challenge as well as hosting a link-up once a week on Mondays where you can chime in about your challenges, triumphs, and questions.