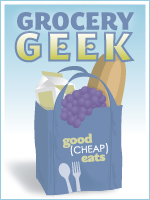 The month is almost over! And I'm so glad about that.
I think that I may be pushing myself past my comfort zone. My family is pretty much done with the Pantry Challenge. They are ready for some more variety and regular meals like sunbutter sandwiches. Ha! Truth be told, so am I.
I've plotted dinners for Saturday, Sunday, and Monday. Tuesday is hubby's birthday and then we're left with two more days in the month. We're at slim pickings now.
Overall I think we've done a great job. Tomorrow, I should be able to move what's left in the deep freeze into the fridge freezer in order to thaw. It will be a tight squeeze, but I need to get that ice accumulation off the sides before I refill it.
(I've got a freezer cooking plan brewing, so I'm more than ready to refill it.)
As I was saying, I have a few more dinners, but then we're hitting a wall of creativity and variety. So, I didn't feel bad about making good with Ralph's Mix and Match Sale yesterday.
Ralph's Mix and Match Sale
I had to go in there already for eggs (for weekend breakfasts) and pepperoni (Friday's pizza). The kids are sick so I got orange juice and a gallon of milk to make more yogurt.
At first I thought I would resist and just wait until the end of the sale to stock up. As it turns out, the pepperoni that I was going for was $1.49. It's rare to find it that low. So, I bought ten packs. (I might even go back for more.) I also went aisle by aisle, something I haven't done in weeks, to look for more of the blue savings tags.
Don't rely on the sale flyer alone. There were some things that I got, like the salsa and the cereal, that were not in the ad. I would have totally missed them if I hadn't done an aisle-by-aisle search.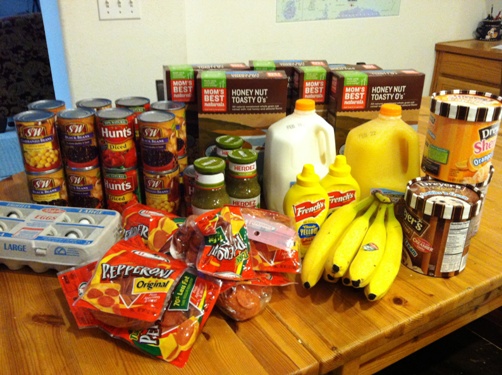 Here's what was part of the sale so you can see why it was such a stock-up opportunity:
canned beans – $0.49
canned tomatoes- $0.49
Herdez salsa – $1.49
Dreyer's ice cream – $2.99
Mom's Best cereals – $0.99
Hormel pepperoni – $1.49
French's mustard – $0.99
These are all things that we regularly use, so I know that they will disappear quickly. Plus I checked the sell-by dates and we have several months to go also.
Total spent at Ralphs: $54
Abundant Harvest Organics
This is our last produce box for the month. I set next week on vacation to let me catch up and to save some money at the end.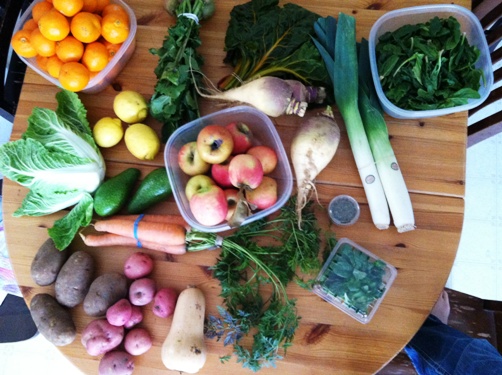 As you can see, the box was pretty abundant: nappa cabbage, potatoes, squash, carrots, mache, greek oregano, spinach, apples, chard, rutabagas, radishes, lemons, oranges, and avocados. The leeks were extra. We haven't got any yet this season and if next week was going to be the week, I didn't want to miss it.
Total spent: $38
Other expenses this week
Cheese curds from farmer's market: $14
clearanced graham cracker crumbs: $1.50
Total spent this week: $107.50
Total spent this month to date: $450.50
Truth be told, we don't need anything in order to eke out our existence this month. But, the sales are hopping and I have freezer cooking to shop for. So, while I could sit out and be good at $450. I'm going to shop this week because of those two important circumstances.
The challenge is about being a good steward. And saving earlier in the month is going to really help me fund next week's "shopping spree."
How's your grocery budget crunching this month?