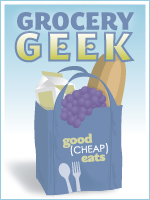 This month, we're eating down the pantry, trying to use up what we have, rotate stock, and maybe save some coin. I think we're doing pretty well so far, especially considering that some months I've spent most of our grocery budget by this time in the month.
Just as a reminder: I'm feeding eight people. Five males: adult, 15, 12, 10, and 8. Three females: adult, 6, and 4. My grocery totals are just for food eaten at home. These numbers do not include meals eaten out, paper products, or cleaning supplies.
Here's how our shopping had gone down this month thus far:
$2.50 – Walmart: snack bags for freezer cooking
$28.25 – Coffee shop: 2 pounds coffee
$52.78 – Trader Joes's trip
$36.20 – Abundant Harvest Organics – produce pictured above
$16.75 – Sprouts – produce (apples, mushrooms, celery, green onions, onions)
$15.20 – Starbucks: 1 pound coffee
$12.96 – Ralphs: milk and cream
Total spent MTD: $164.64
I confess, I'm tempted to be discouraged. I know that in some families this is a lot of money. And even in our own family five years ago, this same amount would cover regular spending for a week and a half, not slimmed down spending.
We've grown in size and number in the last five years and food prices have gone up tremendously. Plus, we're eating more real foods and more "healthy" fare, so it's an improvement in many ways.
So. I'm not going to compare to others or to the far past, but simply look at today. Last year averaged a little over $800/month on groceries. So, this is quite good for 1/3 of the way into the month.
I have two more produce deliveries scheduled and I know we'll run out of milk and coffee. Again. There isn't a ton of meat in the freezer, so eventually, I'll need to restock that as well, but I feel good overall about how this is going.
How's your grocery shopping going this month?