This giveaway is now closed. Congrats to the winner: mnhilburn@.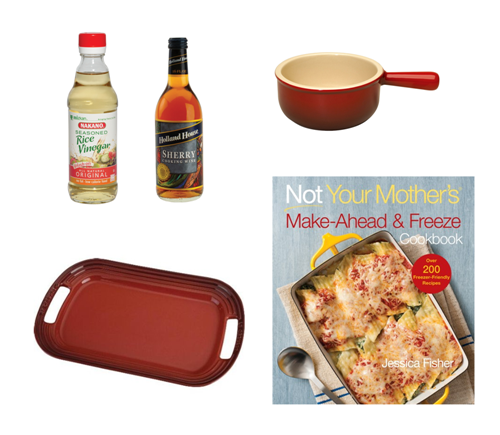 Long, long ago, in a state far, far away, my friend Amy agreed to do some recipe testing for my cookbook. I was so blessed to have her on my team.
I also laughed a lot about how different our cupboards must look. She, a Kansas native, had to hunt hither and yon for certain ingredients that are simply commonplace in my California grocery stores. Amy cheerfully bought everything on the list and then said,
"Now what do I do with this bottle of cooking sherry? I only needed a tablespoon for that recipe."
I think she might even have asked the same question about the rice vinegar I asked her to buy.
Well, as it turns out there are quite a few uses for those bottles of sherry and rice vinegar in the final edition of my cookbook, Not Your Mother's Make-Ahead and Freeze Cookbook. In fact, those ingredients are staples in my pantry — and used often in the book.
I almost always have those in stock because I cook with both quite frequently. Since they are affordable, easy-to-find brands, I typically buy both Nakano and Holland House brands.*
In my book, you'll find great uses for these items in:
Garlicky Italian Chicken Breasts
Herb Butter Chicken Tenders
Teriyaki Chicken Skewers
Chicken Divan with Cheddar Crust
Sesame Chicken with Snow Peas and Mushrooms
Turkey Burgers with Scallions
Gingery Pork and Mushroom Lettuce Wraps
Hoisin-Glazed Salmon Fillets
Soy-Ginger Pork Tenderloin
Asian Slaw
View more videos at: http://nbcsandiego.com.
The Garlicky Italian Chicken Breasts even made an appearance on TV!
Win a Holiday Cooking Gift Pack
All these listed recipes are fabulous for both family meals as well as entertaining, which makes them perfect for the holiday season.
This week I have a great giveaway to bring to Good Cheap Eaters, compliments of Nakano Rice Vinegar, Holland House Cooking Wines, and my publisher, Harvard Common Press.
One Good Cheap Eater will win
To Enter:
Simply complete the information on this form. Please know that the information is only being gathered for the purposes of mailing you your prize in the event that you are chosen as the winner. This information will not be sold, traded, or given away.
This promotion is open until Sunday, December 23, 2012 at 8 pm PST and is limited to US residents, 18 years or older. Friends and family of Jessica Fisher and Good Cheap Eats are ineligible for entry. The winners will be chosen randomly. This post will be updated with the beginning of the winner's email address. The prize for this promotion is provided by and shipped by Mizkan and/or its representatives as well as Harvard Common Press and its representatives. Jessica Fisher and Good Cheap Eats will not be held responsible for unclaimed or undelivered prizes.
*Disclosure: I am an advocate for the Mizkan family of ingredients, including Holland House and Nakano. All opinions are my own. I was buying these products prior to our established relationship. This post does include Amazon affiliate links. If you make a purchase through those links, I am paid a small amount in way of advertising fees.