This giveaway is now closed. Congrats to the winner: k.albright@.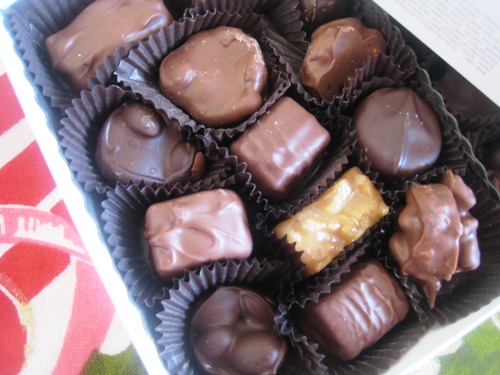 See this? This box of lusciousness just screams Christmas morning to me. Every year for as long as I can remember, my dad opens a box of See's candy on Christmas morning.
And, he makes sure that no matter where I am on Christmas morning, that I have access to a box of See's as well. It's definitely a taste of home for me and mine.
A few weeks ago one of the boys and I headed to our local See's candy to get gift boxes for a dinner I hosted. He was thrilled to be able to sample a few new flavors while we were there. We oohed and aahed over many things. It was divine.
However, Little Miss FishChick4 has a nut allergy. The doctor isn't convinced that it is as severe as we've believed. But, until further I'm trying to be mindful of what she eats, so a box of Nuts and Chews probably isn't for her. This summer I found out that See's has a wide array of nut-free and other allergen-free candy.
Yeah!
See's is currently running a sweepstakes thru 12/24. You can win prizes each day & a chance to win the Grand Prize – 1lb of chocolate a month for 30 years! Details here.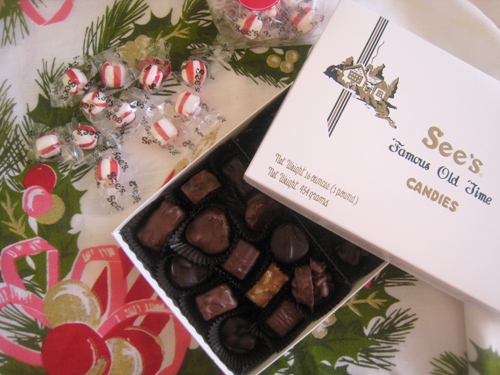 This week one Good Cheap Eater will win a $25 gift certificate to See's Candy.
To Enter:
Simply complete the information on this form. Please know that the information is only being gathered for the purposes of mailing you your prize in the event that you are chosen as the winner. This information will not be sold, traded, or given away.
This promotion is open until Sunday, December 16, 2012 at 8 pm PST and is limited to US residents, 18 years or older. Friends and family of Jessica Fisher and Good Cheap Eats are ineligible for entry. The winners will be chosen randomly. This post will be updated with the beginning of the winner's email address. The prize for this promotion is provided by and shipped by See's Candy and/or its representatives. Jessica Fisher and Good Cheap Eats will not be held responsible for unclaimed or undelivered prizes.
Disclosure: I have received sample product. All opinions are my own.