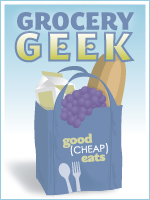 The month hasn't gotten much easier with this week. More family illness, home and garden issues, weather, and of course, yesterday's tragedies in Connecticut. From big to small, life proves that it's harder than we'd like it to be.
Food is a comfort, though. I'm thankful that while God obviously made it for sustenance, He also made it tasty and enjoyable. That is a good thing.
This week we enjoyed some good meals together as a family. My kids rallied to help make Tamales one night; they devoured the entire pot's worth in about fifteen minutes. They rejoiced over Sauerkraut and Spare Ribs on another evening while Hubs and I enjoyed a dinner out together.
I also found a few good grocery deals that reminded me of the thrill of my couponing days. Food doesn't solve our problems, but sometimes good food helps us just a wee bit.
Here's how the week played out in the grocery aisles: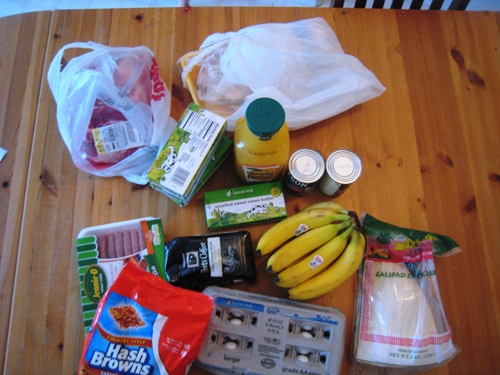 Vons
On Sunday I woke to find the coffee cupboard empty, so I ran out with bedhead to make sure we had some joe. (Turns out my sweet hubby had already bought some with his blow money.)
While there, I bought fixings for a big breakfast. My kids love that, but to eat out costs us a minimum of $45 for breakfast (if we choose wisely); buying the ingredients cost $15. There's a lesson here.
I also picked up meat to make tamale filling and the (expensive) ingredients for Cherries Jubilee while I was at the store.
Total spent $66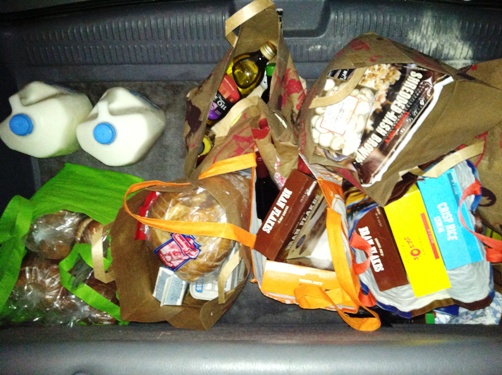 Trader Joe's
That night I swung by Trader Joe's and stocked us up on breakfast and lunch stuff. It made the week much easier at those meals.
Total spent $100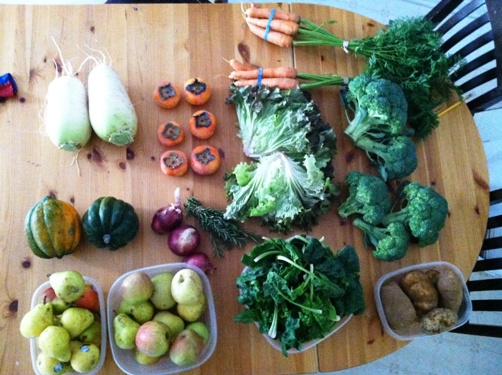 Abundant Harvest Organics
The produce box was abundant. More squash! I have a large collection of squash building in the pantry. I wonder if those would work as Christmas presents for the neighbors?
We also got apples, pears, Korean daikon, persimmons, carrots, lettuce, onion, rosemary, spinach, broccoli, and potatoes.
We are set! There's one more delivery for the month and then we'll have two weeks off to use it all up.
Total spent $36.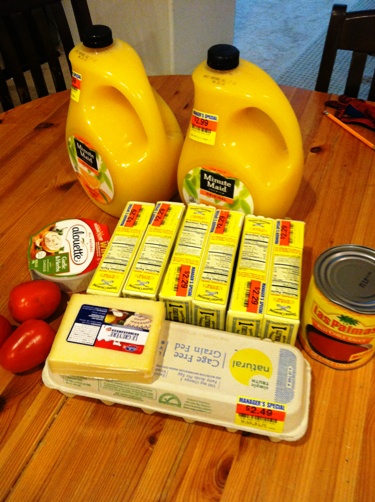 Ralphs
My kids have been really sick this week with all kinds of hacking and sneezing. By Wednesday, everyone was ready for comfort food. I ran into Ralphs for tomatoes and some good cheeses, and lo and behold, found these incredible deals:
butter – $2.29/pound (dated January)
orange juice – $2.99/gallon (the kids consumed both gallons in 24 hours, so it didn't matter that the sell-by date was 5 days away)
organic eggs – $2.49/dozen
Those great deals offset the high price of buying cheese at the grocery store instead of Costco or Trader Joe's.
Total spent $53 at Ralphs.
Total spent this week $255
Spent Month-to-Date : $506
This is a month when I am more determined to keep my cheery disposition than to hold a tight line to the grocery budget. We've discussed this before; something's gotta give. I'm thankful that this season has room for that.