Plan a month's worth of meals to save time and money this holiday season. You'll be surprised at how easy it is.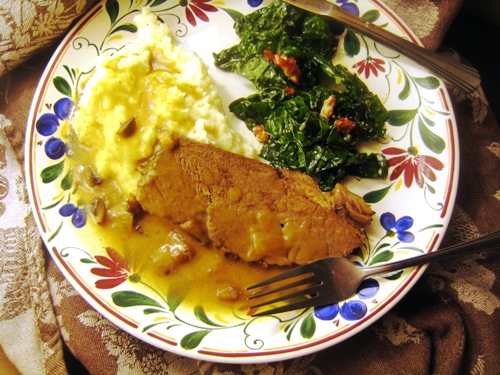 December has begun. Unbelievably, we are in the final stretch of 2012. How did that happen?
It worked so well to have a month-long meal plan in November, I did it again this month. Last weekend I inventoried my freezer and plotted out December in meal plans. It helped that I did such an extensive freezer cooking session last month.
If you're not sure how to tackle many weeks at a time in your meal planning, head here for the 411. And no, I haven't forgotten Meal Planning 101. It will return soon. Pinky swear.
Here's what our meal times will look like this month:
* indicates freezer meal
Grilled Chicken, Rice, Seasonal Vegetables
Pot Roast, Potatoes, Sweet Potatoes, Spinach Salad
Chicken Enchiladas*, Beans, and Mexican Rice, Salad
Chicken Noodle Soup, Crackers, and Cheese
Shepherd's Pie*, Seasonal Vegetables
Meatloaf, Macaroni and Cheese, Seasonal Veg
Baked Shrimp, Rice, Seasonal Veg
Beef Tamales, Mexican Rice, Beans, Salad
Pasta with Red Sauce*, Veg, Garlic Rolls
Sauerkraut, Pork, Potatoes
Jalapeno Chili, Cornbread, Veggie Dippers
Chicken Enchilada Bake*, Mexican Rice, Beans, Salad
out of town
out of town
Meatloaf*, Mashed Potatoes, Gravy, Seasonal Veg
Fancy Dinner out as a fam
Pasta with Red Sauce, Seasonal Veg, Garlic Parmesan Swirl Biscuits
Grilled Fish, Rice Pilaf, Seasonal Veg
Pulled Pork Sandwiches, Veggie Dippers
Chili, Cornbread
Ham, Scalloped Potatoes, Seasonal Veg
Tamales, Mexican Rice, Beans, Salad
Grilled Fish, Potatoes, Seasonal Veg
Pasta with Red Sauce, Seasonal Veg, Garlic Bread
That's my month. What are YOU having?