This giveaway is now closed. Congrats to the winners: widescreen78@, acanderson555@, Rbngndl@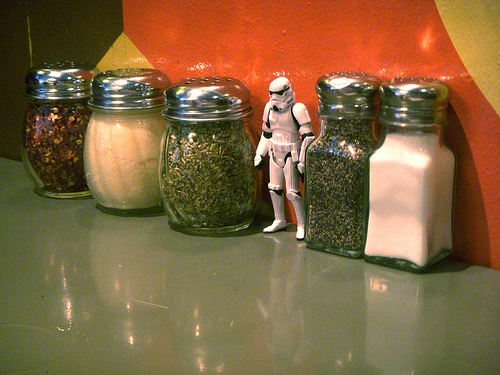 Earlier this year, one of the books that I completely devoured was The Kitchen Counter Cooking School by Kat Flinn. I've told you about it before. It's on the top of my "must-reads" list. If you haven't read it already, add it to your wish-list this year.
Flinn recounts her experience in teaching folks how to become more at home in their kitchens, including teaching her proteges all about cooking techniques, knives, food sourcing, and salt.
Yes, salt!
She takes her pupils through a salt tasting and show them the different nuances that are in different salts. Not every little white shaker bottle is created equal.
After reading the book, my friend Carrie and I chatted online about it here and there. She said that one of her take-aways from the book was to invest in different kinds of salt. I was fascinated.
Salt was on my radar, so when the Real Salt company approached me to try their products, I jumped at the chance.
What the Deal with Real Salt?
My kids and I had discussed the different flavors and aspects of salt, so they, too were eager to see if this salt would taste different. And it does! And we like it a lot. We felt that the food I seasoned with had more flavor and just plain tasted better.
In case you're wondering what is different about Real Salt, here's what they have to say for themselves:
Real Salt means – well, real, authentic salt. A quick glance at the ingredients label on most salts might surprise you! Many salts contain anti-caking agents and even dextrose (sugar). Others have been heat processed and stripped of their natural trace minerals. Real Salt brand, on the other hand, is unrefined and full of natural minerals and flavor – the way salt was meant to be savored.

Real Salt's unique coloring comes from more than 60 trace minerals, which also lend an amazing flavor that has helped Real Salt become the best-selling brand of sea salt in health food stores. Real Salt is best tasting, healthiest sea salt you can find.
Curious to know more? Check out the Real Salt blog. There is a lot of really interesting information there, including a discussion about how the nuclear testing in Nevada impacts the natural resources in the west, including the salt mines.
This week three Good Cheap Eaters will each win a Real Salt Seasoning Gift Pack.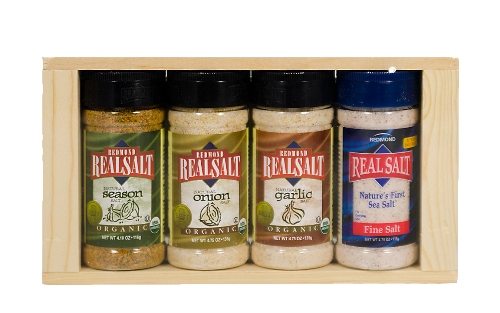 To Enter:
Simply complete the information on this form. Please know that the information is only being gathered for the purposes of mailing you your prize in the event that you are chosen as the winner. This information will not be sold, traded, or given away.
This promotion is open until Sunday, December 9, 2012 at 8 pm PST and is limited to US residents, 18 years or older. Friends and family of Jessica Fisher and Good Cheap Eats are ineligible for entry. The winners will be chosen randomly. This post will be updated with the beginning of the winner's email address. The prize for this promotion is provided by and shipped by Real Salt and/or its representatives. Jessica Fisher and Good Cheap Eats will not be held responsible for unclaimed or undelivered prizes.
Disclosure: I have received product samples and been compensated for my time spent writing and administering this giveaway. All opinions are my own.