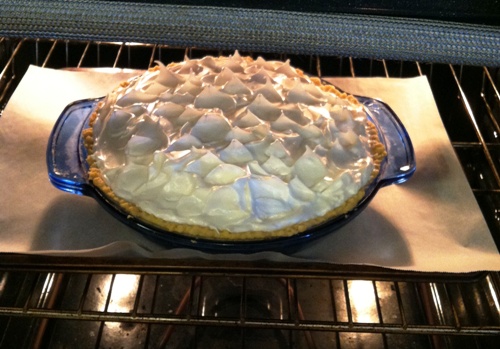 I spent ALL DAY in the kitchen on Thursday. I started with the desserts and had a great time making them.
I was startled to see how much fun I had, especially when making this Lemon Meringue Pie. I started making this dessert when I was ten. I taught myself from my mom's tattered, yellow Pillsbury cookbook. I made it for every Thanksgiving for probably the next 20 years.
For some reason I stopped. I have no idea why. It's been a long time since I made this pie, but all these memories came flooding back. And it made me so happy!
I think I'll be making lemon pie more often!
The rest of the cooking felt like work, honestly. I gladly did it, but I think that it was out of obligation to the holiday more than anything else.
I was testing a few recipes that I couldn't delegate since I hadn't created them yet. And the kids were enjoying their grandparents, so I wasn't gonna make anyone do much. When I finally got my morning coffee at 11 am, I stopped to ask myself, "Why am I doing this, again?"
The reason was simple: I wanted to make it homemade. I didn't make anything in advance because I didn't have room in the fridge or freezer.
Needless to say, it has me rethinking next year. The turkey breast/chicken legs choice was a good call. Every one was happy. Next year I think I will have hubby grill the meat and I'll be sure to make my gravy and mashed potatoes in advance. I might even bypass the stuffing. I made a small batch, but we barely made a dent in it.
(And yes, I, too, find it ironic that the Freezer Queen didn't have the mashed potatoes and gravy on ice. We had already eaten all the mashed potatoes and gravy I made a the start of the month, so I couldn't lean on the freezer this time.)
In the aftermath, here's our menu plan for the rest of the month. Can you believe November is almost over?!
Meal Plan for the Week
* denotes freezer meal from this book.
25. Lasagne, Salad, Bread
26. Rice Bowls
27. Taco Night*
28. Pasta with Red Sauce*, seasonal vegetables, rolls
29. Sweet and Spicy Joes*, Oven Fries, seasonal vegetables
30. Pizza Night
1. Chef's Choice
How did YOUR turkey day go?