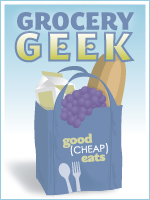 This week felt really busy and short. I suppose that would be thanks to the holiday, eh? It's all a blur, actually.
I taught a meal planning class on Tuesday at our local library. My sweet husband came with me in case of hecklers or stalkers. There were neither present that we know of.
That's how we spent date night. At the library. Then a quick dinner at Pei Wei. And a mad dash through Sprouts. They were out of turkey breast, so I didn't get all my shopping done that night like I had hoped.
My parents arrived at the crack of dawn on Wednesday morning. Dad took me shopping for the turkey breasts — we bought three — as well as the other odds and ends I had forgotten. He paid. Whew. That helped the grocery budget.
Here's how the grocery shopping went down this week:
Trader Joe's
We cruised by TJ's on Sunday afternoon. The Sunday before Thanksgiving! And being the "yes dad" that he is, FishPapa told the littles they could push the miniature shopping carts around the store. Bless him. I went and did my shopping in peace while he directed traffic.
We stocked up on basics for breakfasts, lunches, and Thanksgiving items. Since I did such a big freezer cooking session at the start of the month, I haven't had to buy dinner ingredients.
Total spent = $84.
Abundant Harvest Organics
There was no produce box this week.
Sprouts
(unpictured)
We bought some vegetables, frozen berries, and milk.
Total spent = $24
Weekly total = $108
MTD Expenses = $830
Clearly, I'm not going to be under my ideal of $800 this month. We still have another week in the month, too. We definitely need fruit and milk. But, we'll have plenty of surplus to carry us into December. We haven't made a dent in our freezer meals.
How are you geeking out over groceries?