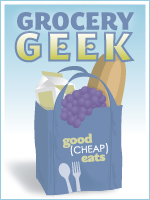 Going into November I decided that I wanted to have a BIG load of meals to get us into the holiday season. I wanted to be able to have a writing night or a date night and not worry about what folks back at the ranch were going to be eating.
I created what I'm calling a Busy Holiday Nights Cooking Plan that focuses on one-dish dinners and casseroles. I can supplement these meals with a few side dishes, but they are "free standing". They don't need a lot of prep work or extra components added at the time of serving.
I spent most of Monday in the kitchen, but now we're good for quite some time. I'm hoping this will keep my grocery spending under control as well as save me time from shopping. We'll need dairy and produce and some grains, but we have a lot on hand now.
Here's the shopping that went into this big cooking session:
Costco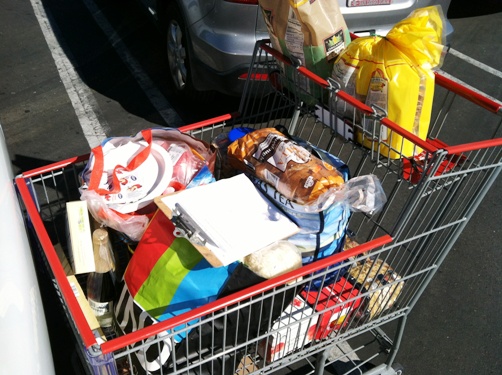 As I mentioned a few days ago, Costco is a great place for bulk buying. With a family our size it's not too difficult to make it work for us. It's also a great fit for freezer cooking.
At Costco I bought all this:
2 gallons of milk
bread
2 pounds of chips
dozens of tostada shells
11 pounds ground beef
4 pounds of ground pork
12 pounds of cheese
2 pounds of turkey breast
4 dozen fruit leathers
multitudes of canned tomato products
lots of refried beans
7 pounds of pasta
6 cans olives
a big bag of potstickers
2 dozen Cliff bars
craisins
animal crackers
6 containers orange juice
4 pounds bacon
chili powder
4 bottles apple cider
2 large cans cooking spray
2 dozen tortillas
and a partridge in a pear tree
I ended up spending $300.
Trader Joe's
TJ's is a my go-to place for dairy, breads, breakfasts, and snack stuff. My purchases this week included bread, eggs, crackers, rice cake, ricotta cheese, sour cream, cream cheese, sunbutter, sunflower oil, and cereal.
Total spent = $51
Sprouts and Walmart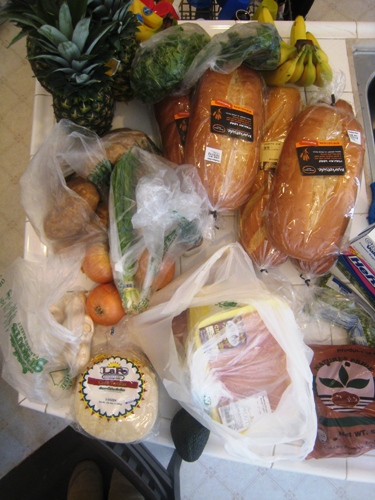 There were a few things on the cooking plan that couldn't be found at Trader Joe's and Costco, so I made two more stops, Sprouts and Walmart.
I bought tortillas, potatoes, paprika, chicken, cilantro, pineapple, onions, avocados, parsley, cilantro, mushrooms, bananas, bread, and split peas.
Total spent = $58
Abundant Harvest Organics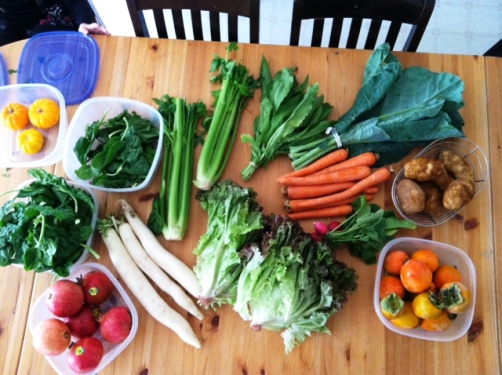 And of course, we can't forget the produce box. This week's bounty included pomegranates, spinach, pumpkins, celery, sorrel, collards, carrots, lettuce, daikon radish, potatoes, and persimmons. The persimmons and collard greens have already found a new home with friends. (Relieves my guilt and pressure to use them). And we're slowly working our way through this supply.
Total spent = $36
MTD Expenses = $445
I know, seems like a lot. But, the month's meals, aside from Thanksgiving Dinner and upcoming birthdays, are mostly present and accounted for. I've also warned hubs that if the freezer dies, he will drop whatever he is doing and go get me a new one. Pronto. It would otherwise be a medical emergency because I would have a heart attack