This giveaway is now closed. Congrats to the winners: maralepp@, jackierwood83@, stzimmy@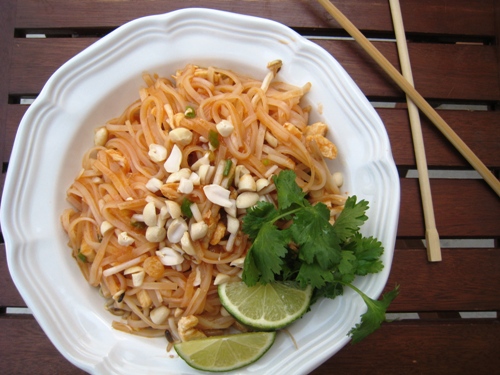 I didn't grow up eating Thai food. In fact, the first few times I tasted it, I didn't really like it. However, I am in love with Pad Thai now. Yum! So good! Unfortunately since my baby girl is allergic to peanuts, we don't enjoy it as a family. But, we still enjoy a multitude of Asian flavors.
I'm not super experienced at making Asian food at home, but I do play with the basic flavors and experiment a little. I absolutely love the noodles and rice that we recently received from Thai Kitchen to try. The rice noodles are prepared in less than ten minutes which makes it so easy to throw together a quick dinner. And the Jasmine rice? Oh, I feel like I've been spoiled. After years of eating only brown rice, it tastes absolutely decadent.
Over the years, a number of Thai Kitchen products have made their way into my kitchen. Some of the ways that I've used them include both Thai Chicken Pizza and Thai Chicken Wrap. If you haven't tried those yet, you should. (Just saying.)
If you're not feeling like cooking from scratch, they have a number of meal kits that are super easy to pull together and taste great!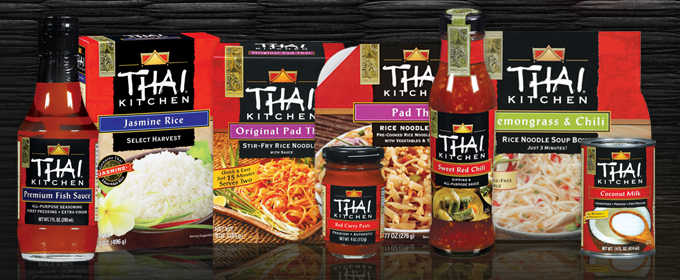 This week Thai Kitchen is giving three Good Cheap Eaters an assortment of products from their line. 
Prizes may not match those pictured.
To Enter:
Simply complete the information on this form. Please know that the information is only being gathered for the purposes of mailing you your prize in the event that you are chosen as the winner. This information will not be sold, traded, or given away.
This promotion is open until Sunday, November 11, 2012 at 8 pm PST and is limited to US residents, 18 years or older. Friends and family of Jessica Fisher and Good Cheap Eats are ineligible for entry. The winners will be chosen randomly. This post will be updated with the beginning of the winner's email address. The prize for this promotion is provided by and shipped by Thai Kitchen and/or its representatives. Jessica Fisher and Good Cheap Eats will not be held responsible for unclaimed or undelivered prizes.
Disclosure: I have received product samples. All opinions are my own.