A good blade is a cook's best friend. Win a set of knives from Ergo Chef. This giveaway is now closed. Congrats to the winners: krbonner@ and bjn1957@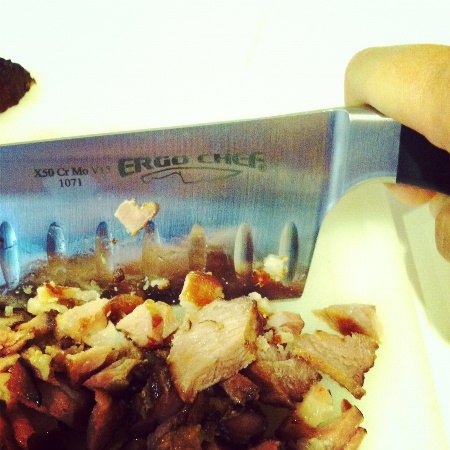 One of the best investments you can make as a home cook is to buy a great set of knives. They are certainly an investment on the front end, but if you buy the right set, they will last you for decades.
And there's nothing more annoying or potentially dangerous than a bad knife. Trust me.
I bought a couple of cheapo serrated knives a few years back to keep with our camping supplies and in the picnic basket. After hubby's first trip out with the boys, he deemed the knife worthy only for the trash. It didn't cut anything well or easily. And the five or ten bucks I spent was a complete waste of time and money.
Good knives matter.
Not only will cooking be more fun and a lot easier with a good set of knives, but it will also be safer. Bad knives slip and cut you instead of the food way too easily. That's why I'm so happy to bring you this great giveaway from Ergo Chef.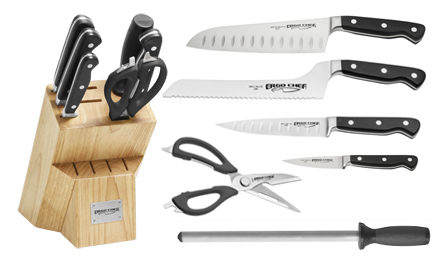 This New PRO SERIES 7 Piece block set includes patented ergonomic fully forged German Steel knives. A 7″ Santoku with hollow ground blade, an 8″ Offset Bread knife, our 6″ Utility knife with hollow ground blade, a 3.5″ Paring knife, the new Multi function Heavy Duty Kitchen Shears, a 10″ Diamond sharpener and a 10 slot storage block. The block also features four slots for steak knives, which are not included in this set.
Our family had the chance to test out this knife set, and I'm really impressed. The bread knife is amazing. It slices through baguette without any effort. Like it was butter! The shears are super heavy duty, making them work well for all kitchen uses. They are definitely a step above the ones I had previously. I think I'm ready to butterfly a chicken now!
And to be honest, the little paring knife is one of my favorites. I haven't had a good paring knife in years, so I'm glad to have something that can tackle small cutting projects so well.
The added bonus is that all these tools are developed with ergonomics in mind. Between my phone, the computer mouse, and kitchen tools, I use my wrists a lot, so I'm glad that I have something to help me work without hurting myself.
And there's also the coolness factor of Ergo Chef. They've created a wild and crazy line for Guy Fieri. They like the Hot Rods of the knife world.

This week two Good Cheap Eats will win the 7-piece set pictured above.
To Enter:
Simply complete the information on this form. Please know that the information is only being gathered for the purposes of mailing you your prize in the event that you are chosen as the winner. This information will not be sold, traded, or given away.
This promotion is open until Sunday,October 7th, at 8 pm PST and is limited to US residents, 18 years or older. Friends and family of Jessica Fisher and Good Cheap Eats are ineligible for entry. The winners will be chosen randomly. This post will be updated with the beginning of the winner's email address. The prize for this promotion is provided by and shipped by Ergo Chef and/or its representatives. Jessica Fisher and Good Cheap Eats will not be held responsible for unclaimed or undelivered prizes.
Disclosure: I have received sample product for review. All opinions are my own.