Enter to win a $25 gift card from Subway. This giveaway is now closed. Congrats to the winners: cindyjensen@,  gde@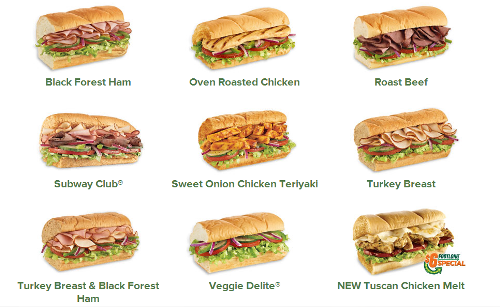 Subway is one of my best friends. You see, I love to let someone else do the cooking. But, when we started counting calories a few months ago, many of my options were wiped right off the planet.
However, hubby and I found a handful of affordable places where we could take the fam or go on date night — and still stay under our calorie allowances. These would include Chipotle, Rubio's, Daphne's, and Subway.
Now, we don't order just anything off the menu, but there are a number of things that we can do to make it a healthy and tasty sandwich without going over our calorie budgets, namely avoiding the cheese and oil, and loading on the vegetables.
I love that Subway is generous with the veg; makes it almost like a salad. And their flat bread is awesome. And so is the price tag.

SUBWAY® restaurants has added a new limited-time offer to their FRESH FIT™ menu during the month of October—Tuscan Chicken Melt!
Featuring seasoned chicken strips, melted cheese and a tangy balsamic vinaigrette dressing,  the Tuscan Chicken Melt – at 380 calories and 8 grams of fat per 6-inch sandwich— is proof that , good-for-you can also taste delicious. Tasting is believing, so enter to win this week's giveaway.
I've got two $25 gift cards for Subway to giveaway this week, compliments of Subway.
To Enter:
Simply complete the information on this form. Please know that the information is only being gathered for the purposes of mailing you your prize in the event that you are chosen as the winner. This information will not be sold, traded, or given away.
This promotion is open until Sunday, October 21, 2012 at 8 pm PST and is limited to US residents, 18 years or older. Friends and family of Jessica Fisher and Good Cheap Eats are ineligible for entry. The winners will be chosen randomly. This post will be updated with the beginning of the winner's email address. The prize for this promotion is provided by and shipped by Subway and/or its representatives. Jessica Fisher and Good Cheap Eats will not be held responsible for unclaimed or undelivered prizes.